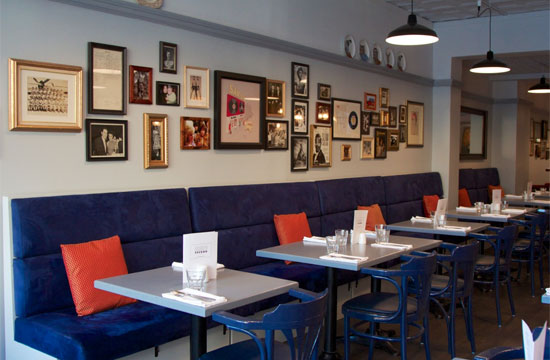 We love it when Canada tries to copy American things: our monetary systems, our burgers, our crack mayors. Whenever they do, they're just so try-hardy Canadian that we can't help but pat them on the back. And these days, what's more American than rustic, janky Brooklyn restaurants, cobbled together with farmer's market produce and old bicycles? That's why we are so very, very amused with the concept of Brooklyn Tavern, a new restaurant in Toronto's East End that attempts, but falls short of, out-Brooklyning Brooklyn.
The twee is strong with this restaurant, helmed by Mike Dougall, owned by Cindy Wilkes and David Steadman, and apparently decorated by recent Oberlin grads in vintage dresses. While the name could be derived from the fact that it sits on the corner of Queen Street and Brooklyn Avenue, Toronto Life describes the restaurant as an "American bistro," the decorator as "[Cheers's] Sam Malone…with a penchant for salvaged finds," and its decor as a "hodgepodge of vintage memorabilia, including photos, framed LPs and an antique boxing-ring bell."
You think we're kidding?  This Toronto restaurant is so très Brooklyn that it even has its own ghost:
The Numbers:
• 20 embroidery hoops repurposed as coat hooks
• 4 vintage sconces from homes around Toronto
• 2 walls made out of tortoiseshell-patterned acrylic
• 1.5 lbs of brisket in each burger patty
• 1 original Prohibition-era arrest warrant
• 1 friendly ghost who's reportedly been haunting the space for years
• 1 house mascot named Doris, who appears in a painting behind the bar (the owners claim she drinks gin and talks out-of-place—but always stays classy)
And the food is "Mad Men-era cuisine," too. Giant meatball. Square burger. Iceberg wedge. This is what American television does to people!
Oh, Canada. All we really do here in Brooklyn is eat cheese platters off of repurposed wooden boards while wearing flannel. But we're reading this article and can hear the ukulele music playing on a vinyl record.
(For the record, a Canadian writer told us that not all of Toronto adores Brooklyn that much, "just the East End." Please don't think we're tarring all of Toronto with a hipster brush.)
RELATED:
President Obama Knows Brooklyn Is Hip, Eats Cheesecake to Demonstrate That
Everything You Need To Know About Anthony Bourdain's Final Ep Of No Reservations
WATCH: Chris Cosentino Encounters Brooklyn Hipsters For The First Time
Have a tip we should know? tips@mediaite.com