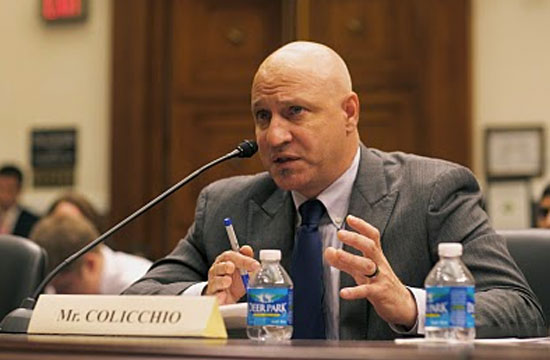 Most chefs can claim interest in politics and policy, but Tom Colicchio can safely be called the wonkiest chef. (Top Wonk? We'll show ourselves out.) Yesterday in Washington, he and newly-formed nonprofit Food Policy Action released the first annual National Food Policy Scorecard, which ranks Congressmen according to their voting record on issues such as food safety, hunger, and farm subsidies.
Borne out of the Environmental Working Group, of which Colicchio and many of his celebrity chef peers are members, the Scorecard was revealed to DC journalists at a press conference yesterday.
"I don't think this is about politics, this is about values," Colicchio said of the card and its nonpartisan background. Food Safety News, however, points out that "the individuals serving on the group's board are tied to several food policy groups that are not known for being particularly objective, bipartisan or independent."
Nevertheless, Colicchio's role on its board is, more likely, to bring attention to a looming issue largely ignored during this election cycle. "I find it very interesting that through three presidential and one vice presidential debate not once was food mentioned or hunger mentioned … the questions never came up," he said, according to the Washington Examiner. "It's not part of the national discourse yet and that has to change."
This isn't Colicchio's first time in the oddly dingy halls of Congress: in 2010, he testified before the House Education and Labor Committee on the necessity of reauthorizing and expanding the Childhood Nutrition Act, the first and only celebrity chef to be called before Congress.
[Food Safety News, Washington Examiner]
Have a tip we should know? tips@mediaite.com