The Top Chef Gang Reminisces Over 150th Episode, Is Not At All Humble About It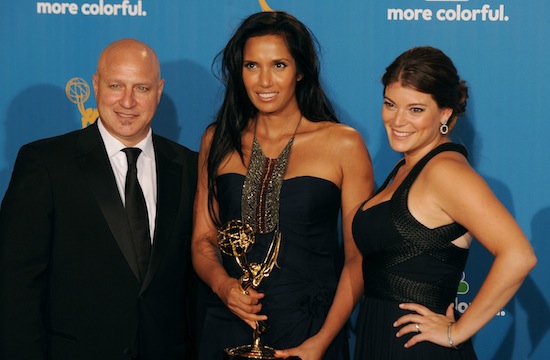 Eleven seasons, 150 episodes, three judges, a few Emmys sprinkled in, and dozens upon dozens of spinoffs — can you believe our journey with Bravo's Top Chef has come so far? According to the men and women behind the most popular foodie TV show for 18 to 49 year olds, they certainly can.
Hollywood Reporter got the whole gang of Top Chef — VP of Development and Talent Andy Cohen (he's more than just Watch What Happens Live, you know), Tom Colicchio, Padma Lakshmi, Gail Simmons, Bravo President Frances Berwick, producer Dan Cutforth — to pat themselves on the back for the success of the show, and they were more than happy to do so. In case you weren't aware, Top Chef is kind of, sort of, A BIG DEAL. And they were more than happy to trash their competitors, mainly Food Network, while congratulating themselves. Some of the more snooty, high-brow comments from our favorite Top Chef bigwigs:
Tom Colicchio: My first response [when asked to host Top Chef] was, "Absolutely not." I saw the format, and I liked it, but I was still gun-shy because there were other reality food shows early on that didn't work. But I thought if we could do it without pandering and show what chefs really go through, then I was all in.
[Padma] Lakshmi: There's a whole network that does nothing but this. We had to disrupt the market in a real way.
Colicchio: This was an industry I had been in for 25 years, and I didn't want the industry to laugh at it and think it was a joke. I couldn't have it. After the first season, I had chefs like Eric Ripert and Daniel Boulud wanting to guest-judge. It was that quick.
Well, la ti dah. Oh, and screw you, Food Network:
[Andy] Cohen: The big legacy of Top Chef is how beautiful Magical Elves made it look, stylistically. It was a food show that blew everything out of the water on other networks. If you look at the Food Network pre- and post-Top Chef, it's totally different.
Colicchio: The production value of what we do is far and away above anything on the Food Network. Nothing looked good there. The sets were bad.
Cohen: I think Chopped borrows a lot editorially from Top Chef.
No really guys, give yourselves some credit already!
Lakshmi: I realized it had really saturated American culture when tweens started coming up to me: "Me and my sister did a QuickFire competition for my mom for Mother's Day, and she had to pick the best one!" Or girls having an amuse-bouche at their slumber party.
Colicchio: It went from becoming part of the foodie culture to part of the pop culture.
Amuse bouches at a sleepover? Whatever.
Clearly, everyone's pretty happy with themselves over at Bravo, raking in the newbie foodies of the world. Michael Voltaggio, in a separate guest column for Hollywood Reporter, also piped in to share how Top Chef has helped the actual players on the show, the chefs: "Top Chef and Food Network made our careers more interesting. It created the ability to make other sources of income because chefs don't make a lot of money, and we put in a lot of hours."
Well, that's true too.
RELATED:
Our Resident Vietnamese Person Judges All The Dishes from Last Night's Top Chef
Top Chef New Orleans Last Chance Kitchen Episode 1: Five Chefs Compete
Tonight in Food TV: No One Looked Up How To Make Gumbo Prior to Top Chef: NOLA
Have a tip we should know? tips@mediaite.com