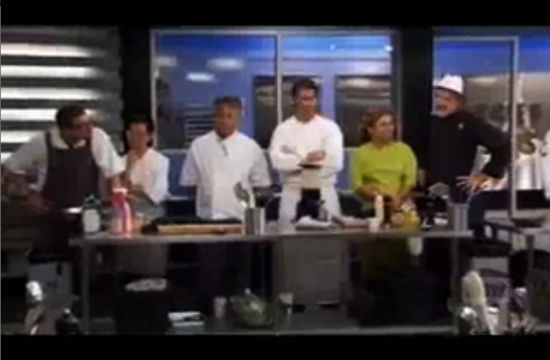 Top Chef: Masters is back in prime form, and Padma Lakshmi is going to have to pry her Wednesday night Bravo slot out of Curtis Stone's cold, dead hands when Top Chef returns, because he didn't miss a beat during the seamless transition from Around the World in 80 Plates host last week to Top Chef: Masters host this week. No Kelly Choi to be found.
A newly slimmed (120 pounds later, to be exact) Art Smith arrived to become Lorena Garcia's BFF, begin an early rivalry with Chris Cosentino of Incanto fame, ogle the Vegas eye candy with coupled competitors Mark Gaier and Clark Frasier (henceforth known collectively as Mark 'n' Clark), and admire cute babies in Whole Foods. Thierry Rautureau also returns this season as a veteran and his jaunty hat rivals Art's, for sure. Patricia Yeo, though she be but tiny, is FIERCE (read: scary). Fun fact: she's also Chris Cosentino's former bosslady! We're very afraid. Kerry Heffernan returns, rather intensely, as a former Top Chef judge.
Everyone is extremely chummy at the onset, greeting old friends, and meeting respected colleagues. Then Curtis throws out a partnered Quick Fire with two randomly chosen ingredients and a 15 minute time limit, and we instantly begin to sweat. Chris and Patricia win, but check out the first elimination challenge, and the beginnings of the Art/Chris showdown:
First of all, Patricia's anti-buffet sass! We get it, you're the Dowager Countess of the Culinary Industry. In all seriousness, we were half-expecting her to inquire of Curtis, "Buffet? HWat is a buffet?"
Second of all, Chris "I Didn't Come Here To Fucking Make Bullshit" Cosentino needs to calm himself. You know taking yourself super seriously is the quickest way to get Art Smith to start condescendingly calling you "honey-child".
Third of all, Art "I Cook For Billionaires, I Don't Have Budgets" Smith might be our favorite human ever. Oh, and we'll gladly join you for dinner at Alejo, Thierry!
During the Elimination Challenge, Missy Robbins slices her finger, and, while we're expecting a paramedic to slap a band-aid on it, glove her up, and send her back to the cutting board, she actually needs to go to the hospital, where it's discovered that she sliced so much of her skin off, she needs a skin graft surgery with a 3-6 month healing time of keeping her pinky finger immobile. Obviously, she had to bow out of the competition, but Curtis extended her a standing invitation to come back and join next season once she had recovered. Meanwhile, her team is stuck finishing her dish for her, resulting in Art vs. Chris, Round 2:
And, of course, we would be remiss if we didn't mention Ruth Reichl's scathing smackdown of fellow judge James Oseland. (Yes, you can take a moment to sigh with relief that they're ba-ack!).
Ultimately, Sue Torres went home, winding up on the wrong side of the Indian vs. Mexican cuisine buffets, as a Mexican chef stuck cooking Indian. Meanwhile, Chris banks another win. Might he be pulling out of the gate as the early favorite? Looks like it, based on his double-win in the first episode. Stick with us to see how Season 4 of Top Chef: Masters shakes out!
Have a tip we should know? tips@mediaite.com