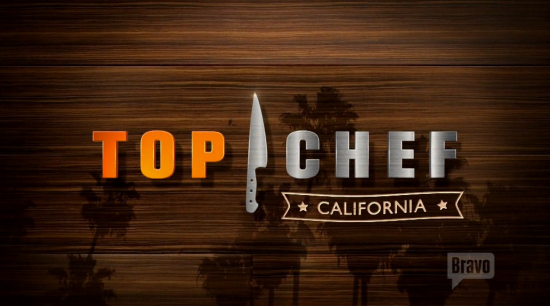 Looking at my notes from before I started watching this episode, I promised to do a lot of terrible things if Phillip didn't go home, but I guess I have to take all of that back now. He's like a cockroach, or Donald Trump. He's going to be here a lot longer than we thought. This week, we're in San Diego whose culinary scene is built on 2 pillars: fresh, local seafood, and the Baja style of cooking. Chad lives in San Diego now, and Jeremy comments that "it must be so weird to look at your city from a van," which tells me he's never been in a car before, or at least never been in one in the city where he lives. He also thinks it would be funny if Chad saw his girlfriend cheating on him, which Chad does not think is funny.
The guest judge this week is Javier Plascencia, who Padma Lakshmi, cookbook author and star of Bravo's Top Chef calls a restauraNteur, which is not a thing. The word restaurateur has no 'N'. Moving on, for the quickfire challenge (which is a sudden-death challenge) the chefs have to make a fish taco and Angelina has GOT THIS because she does Taco Tuesdays, something my sister-in-law's apartment and the bar downstairs both also do, though neither of them have GOT tacos. Predictably, Angelina has NOT got this. Carl has also got this, because I'm not sure if you've heard, but he's been to Nicaragua with his wife. Phillip has decided to change his strategy by trying to make something the judges like, which makes me question what he's been going for thus far.
With the exception of Angelina, who does not put her tacos onto the plate the chefs do a pretty good job. They even like Phillip's taco, though he's not in the top three, which for some reason surprises him. Here are the results:
Top 3 Dishes: Karen, Chad, Kwame
Winner: Chad
Bottom: Because Angelina didn't plate, this is the only dish on the bottom, and she needs to compete for her survival.
Angelina chooses Messy Wesley, and the sudden death challenge is all about Caesar salad! Caesar salad was invented in the Tijuana restaurant that Javier Plascencia now owns, which, he says, "oddly enough, is called Caesar's," which tells me he does not know what the word odd means. Or that he doesn't know what a joke is. The chefs have to create a dish using only the ingredients Javier uses in his restaurant's version of the classic.
Angelina makes a crostini and Wesley makes a fried egg dish. Wesley wins, and Angelina is sent home.
Tom Colicchio, Richard Blais, and Emeril Lagasse join Padma so the chefs can celebrate with color-coded beer. Karen astutely observes that it's probably not just a beer. It's not! The judges have each collaborated with Stone Brewing Company to create four different beers, and for the elimination challenge, the chefs have to create a dish that captures the essence of the beer. Each chef has incorporated different flavors and ingredients, and they are:
Padma: Jalapeño, Ginger, Tamarind
Richard: Ras el Hanout, Beets, Chocolate
Tom: Lemon, Coriander, Banana
Emeril: Coffee, Cayenne, Tangerine
Wesley is uncomfortable, because he's chosen Richard Blais's beer. If you had somehow forgotten, Wesley is now the chef at Richard Blais's old restaurant. His dish is going to be a disaster. Marjorie decides to experiment with a pressure cooker, and this probably also will not go well. Amar is suddenly relevant, and we're about halfway through the season, and now I'm thinking he may win it all. My money is still on Kwame, though. Phillip decides to make technically proficient food, which begs the question yet again: what the hell was his strategy before?! Isaac makes #bananaise, and as much as I want to hate him because he's way too much, I somehow don't
What are pork and squid meatballs, Jason? Are they a thing?
First, Padma's beer: everyone does well with this one, but, to be fair, her flavors set the chefs up for the most success.
Richard's beer is next: Karen's duck is excellent, Jeremy's chocolate granola dinner item works, and, as expected, Wesley's lamb is a bummer. I say a preemptive PEACE OUT to Wesley.
Emeril's beer, which I thought would be the most difficult, has produced all good results. The one real complaint is that Marjorie's dish doesn't resemble the beer she worked with. Other than that though, it tastes really good.
Tom's beer: Jason's dish is the weirdest thing they've ever had. Again, what are pork and squid meatballs?! The banannaise is only okay and the dish seems confused. Kwame kills it, once again.
Top 3 dishes: Kwame, Amar, Karen.
Winner: Karen
Bottom: Isaac, Wesley, Jason
Sent Home: Wesley
I am extremely pleased that I guessed right.
The chefs are going back to Los Angeles next week. We'll see you back here next week!
Now that you're caught up, check out the most recent episode of Last Chance Kitchen!
You might also like:
Top Chef: Where Are They Now? Carla Hall
Top Chef: Where Are They Now? Stephanie Izard
[Images via Screen Grab]
Have a tip we should know? tips@mediaite.com