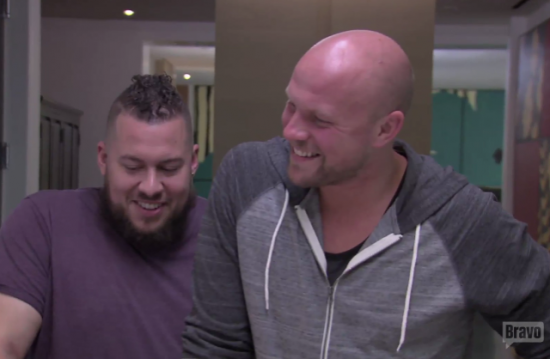 We have arrived. The final part of the two part finale of Top Chef Season 13.  Jeremy or Amar? I think I'm still team Marjorie. Let's get to it. Resident bro Jeremy and Amar are hanging out in their room, totally not expecting anything, when they get an unexpected room service delivery. Surprise! It's not just regular room service. It's Tom Colicchio! LOL, good joke, Tom Colicchio.
Tom Colicchio announces that he has never prepared a meal on Top Chef before. Poor Tom Colicchio. Tonight, that's about to change. He is going to prepare a four course meal for our final two cheftestants. He makes crab and sea urchin with finger limes, squab, potato pasta, and waygu beef. He explains that he's used his favorite ingredients, and when he leaves, he tells them to think about their favorite ingredients, as though it will be a part of their final Top Chef  challenge.
In the Top Chef kitchen the chefs meet all of the eliminated contestants, and they each get to pick two people to work with on the challenge. Amar gets to pick first and chooses Kwame. Solid. Jeremy picks Carl, because he's the "finesse king" and they're "gonna make some good decisions together," demonstrating the exact opposite strategy I used to pick my college boyfriends. Amar then picks Marjorie, because duh. Jeremy picks Angelina, a choice I cannot understand. Everyone keeps insisting all the time that she's good at prep though, so I guess I believe them.
"There's one more thing," says Padma. There's always one more thing. It's the boss men/mentors. Jeremy's current position is at Jean-Georges Vongerichten's restaurant Matador in Florida. Jeremy talks about him often and the two are extremely chummy. Amar's relationship with Charlie Palmer is more contentious. The mentors will also be helping out.
As Tom Colicchio hinted the night before, the challenge is to create a four course meal, with each course highlighting a different ingredient of the chefs' choosing. Jeremy is making a duo of foie gras, bass, roasted duck, and cheese for dessert. I love cheese as an appetizer, but if it's not followed by "cake," cheese for dessert is generally an extreme letdown to me. Amar is going to make tuna tataki, sea urchin risotto, roasted lamb, and coconuts with tropical fruit salad for dessert. In the kitchen, Tom Colicchio makes a hilarious crudo joke to Jeremy that no one has made before. LOL, Tom.
It's time for the judges to taste the dishes, and the chefs will be serving them head to head. Also, their families are there! Pressure's on. The foie gras and tuna tataki are both great. Jeremy is struggling with his fish fillets, since some of them may be raw. But, for the most part, the second courses go well too. Amar's is slightly better, though everyone acknowledges that they're neck and neck. Unfortunately, the third course falls off a bit. Jeremy's duck and Amar's lamb are both undercooked. The desserts are both good and desserts that, while pretty, would be disappointing to me if they showed up on my plate.
The judges deliberate what Padma calls the most difficult decision of the season. They acknowledge that Jeremy has the superior technique, but Amar does a lot in the way of flavor. They bring the chefs back in and crown Jeremy Ford Top Chef.
That's all for this season! See you next year!
Have a tip we should know? tips@mediaite.com