'Watch Out Joe': Sanders Blasts Sheriff Arpaio for 'Ambushing' Wife During Campaign Trip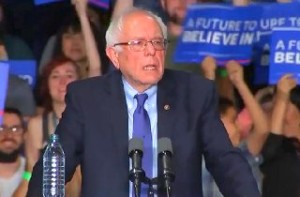 Bernie Sanders took on Joe Arpaio Thursday night as he called the infamous sheriff an "un-American and uncivilized" bully after Arpaio challenged his wife to a surprise immigration debate.
As he spoke last night at a rally in Arizona, Sanders described a story reported by The New York Times about how his wife Jane Sanders travelled to the outdoor jail, known as "Tent City," to view its conditions earlier in the day. This led to an unexpected encounter with Arpaio, and though he offered to give a tour, Sanders said it was actually a deliberate attempt by Arpaio to "ambush" his wife.
"She asked him about racial profiling, and he didn't have an answer. She asked him about conditions in Tent City and other abuses that he has perpetuated, and he didn't have an answer," Sanders said. "You know what, he cannot have an answer, because what he is doing is un-American and uncivilized."
Arpaio has been known for his extremely hard line on illegal immigration, even before he endorsed Donald Trump for president. Sanders went on to critique Arpaio's treatment of Hispanic immigrants, and called him a bully who relishes opportunities to pick on disenfranchised people:
"It's easy for bullies like Sheriff Arpaio to pick on people who have no power, but if I'm elected president, the president of the United States does have the power, watch out, Joe!"
Watch Sheriff Arpaio's confrontation with Mrs. Sanders, and Bernie Sander's reaction above.
[image via screengrab]
Have a tip we should know? tips@mediaite.com