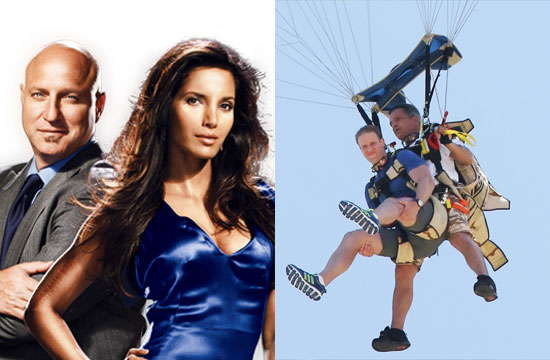 This morning, Top Chef received its seventh Primetime Emmy Awards nomination for Outstanding Reality Competition Series and, with a lumbering sigh, put on its Emmy armor to return to TV award battle with its three longtime foes: Project Runway, Dancing With The Stars, and its Emmy Nemesis, The Amazing Race.
A little history: though it's been nominated a whopping seven years in a row, which would make any show proud, Top Chef has only won once — in 2010, for Season Six (which proves that Voltaggio brothers and Thomas Keller make anything better) — while The Amazing Race has beaten it out nearly every year they've gone head-to-head. In fact, The Amazing Race has won the Outstanding Reality Competition Series Emmy every single freaking year since the category was created in 2003. (Do we feel bad for Survivor? Eh.)
Top Chef will also face off with its Bravo sibling Project Runway, as well as Dancing With The Stars. Both shows have been up for the Emmy with Top Chef since 2007, when Top Chef was first nominated. All three shows have lost to The Amazing Race, which makes us wonder if they will start plotting to do the unthinkable and kill The Amazing Race. Well, really, "orchestrate a smear campaign against The Amazing Race with some sort of secret Emmy Super PAC." Wouldn't that be secretly fun?
"The Amazing Race: Wrong for America, Wrong For The Emmys"!
"The Amazing Race: It Will Kill This Little Girl With A Nuke"!
"The Amazing Race: Please Pack Your Stupid Colored Flags And Go…On A Trip Around The World…And Never, Ever, Ever Come Back."
Finishing out the category of Emmy nominees are So You Think You Can Dance and The Voice, which have as much of a chance of winning as Top Chef, which is to say, none — as long as that loudmouth The Amazing Race still lives and breathes.
In the Reality Programming Emmy race, Guy Fieri's Diners, Drive-ins and Dives received a nomination, and will fight to the death against Mythbusters, Shark Tank, Undercover Boss, Deadliest Catch, and Antiques Roadshow. (Our money's on Antiques Roadshow. You never know if that Regency-era cabinet is actually a death trap.)
[Variety]
RELATED:
Trisha Yearwood Ties With Best Thing I Ever Ate At Daytime Emmys, Lidia Bastianich Nabs Outstanding Host
What's On The Menu At The Emmys Governor's Ball Tonight?
2012: Top Chef, No Reservations and Food Revolution Nominated For Primetime Emmys
Have a tip we should know? tips@mediaite.com