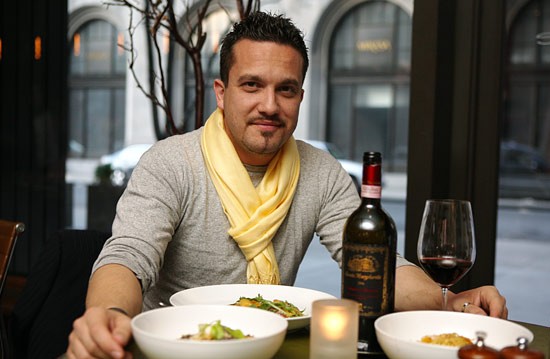 Fabio Viviani came in fourth place on the fifth season of Top Chef, but nobody has forgotten his face. Or his hair. Or his personality. Did we mention the hair? In case you don't remember him, he won fan favorite his season. He had actually turned down Top Chef twice before actually going on it, because he didn't feel he knew enough English. Since his win, he's stayed in the public eye and has achieved success off the television screen as well.
After his run on Top Chef he came back for season 8 to compete on Top Chef All Stars, though that time, the title of fan favorite went to Carla Hall. He also appeared on the series Life After Top Chef. He also won a webby for his Yahoo show Chow Ciao, has a regular spot on QVC selling kitchen products, and has appeared on every morning show and talk show you can think of. In one of his blogs for the show he quoted he great Kanye West. He said, "I'm not a businessman, I'm a business, man!" That he is. He totally took his success and ran with it.
Currently, he has six restaurants, including Mercato, Siena Tavern, Prime and Provisions, and Bar Siena in Chicago, and Cafe Firenze and Osteria in LAX airport. Viviani also has a line of kitchen products with Bialetti, his Heritage Collection, which includes wooden serving plates and bowls, cheese boards, and oil and vinegar containers, as well as Fabio Viviani Wines.
He wouldn't be a celebrity chef without cookbooks. He's written Cafe Firenze Cookbook: Food and Drink Recipes from the Tuscan Sons, which was published in 2009. Later, he published Fabio's Italian Kitchen which was a New York Times Best Seller in May 2013, followed by Fabio's American Home Kitchen. He didn't stop there. He's also released e-books, including two volumes of Did I really Make Breakfast, The Skinny Country, We The Soup, and I Would Love To Meat You.
Viviani has released several e-books, including Did I Really Make Breakfast (Vol I & II), The Skinny Country, We The Soup and I Would Love To Meat You
Have a tip we should know? tips@mediaite.com