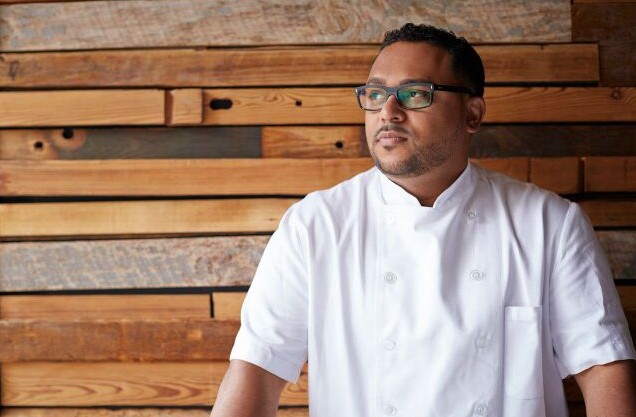 We need to talk about Kevin. Kevin Sbraga, that is. The winner of Season Seven of Top Chef who credits his win, at least in part with a "moment of clarity" he had in between the taping of the regular show and the finale. "'I realized I needed to do my own thing,' he says. 'Even though I hadn't won yet, I felt like I had because I the found the confidence I needed to open my own restaurant.'" We caught up with Sbraga, who now owns three restaurants and has won numerous accolades. We caught up with Sbraga to find out where he is now, and what's next.
Editor's Note: This interview has been edited.

TB: How did your life change in the immediate aftermath of Top Chef?
KS: The night I won, I received hundreds of messages on Facebook and Twitter. I remember attempting to respond to each and everyone. Well, that was almost 6 years ago and that still hasn't happened!
TB: How has your life changed in the long term?
KS: I have opened several restaurants. Prior to Top Chef I was an executive chef, now I am a chef and restaurateur.
Prior to Top Chef, Sbraga worked as a culinary director under Jose Garces and as an executive chef under Stephen Starr. Since Top Chef he has opened three restaurants: Sbraga, The Fat Ham, and Sbraga & Company.

TB: What is the most important lesson you learned from Top Chef?
KS: To be myself and cook the food I'm passionate about.

TB: What's next for you?
KS: Ha, I haven't been able to figure that out since I opened Sbraga almost 5 years ago. However, it is my goal to open a more community-based restaurant concept.

TB: Do you still keep in touch with anyone from your season of Top Chef?
KS: Yes. I speak to or cook with at least one person a week from Top Chef. (Sbraga is particularly close with Angelo Sosa and Tiffany Derry, and speaks to them often.)

TB: Who are your favorite chefs (past and present)?
KS: Well I knew Hung Huynh, Michael Voltaggio, Mike Isabella, Kenny Gilbert, Nicholas Elmi and Jason Cichonski prior to the show. So they will always be my favorites. But I also have a HUGE amount of love and respect for Tiffany Derry, Angelo Sosa and Arnold Myint.  Outside the Top Chef family, favorite chefs include, Marc Vetri, Jose Garces, and Michael Solomonov.

TB: If you could only have one condiment for the rest of your life, what would it be?
KS: It would be hot sauce. I put it on everything. I love it.
We do, too!
You Might Also Like:
Top Chef: Where Are They Now? Fabio Viviani
Top Chef: Where Are They Now? Michael Voltaggio
Top Chef: Where Are They Now? Hosea Rosenberg
Top Chef: Where Are They Now? Hung Huynh
Have a tip we should know? tips@mediaite.com