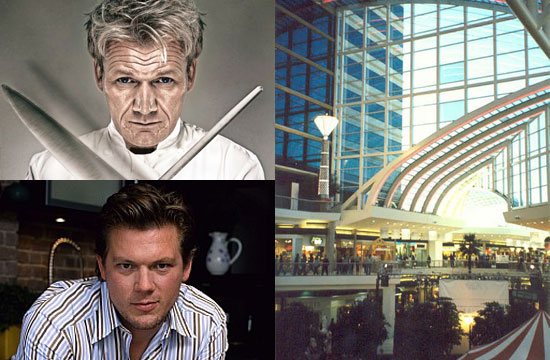 Remember Gordon Ramsay's food court competition show that was supposed to run on Food Network and feature Tyler Florence as host? The one in which teams of cooks — amateurs welcome! — would duke it out with their mall food court restaurant concepts, with the winning concept receiving a stand in Alabama's largest mall, provided that the applicants 1. "MUST BE BASED & HAVE TIES TO THE LOCAL ALABAMA REGION!" and 2. could prove of their concept "HOW IT'S GOING TO BE LOCALLY INSPIRED"? (The casting notice had a lot of yelling in it.)
Apparently, Alabama has failed as a state of potentially lucrative restaurateurs. The official press release for the series, which premieres July 7th on Food Network, claims that Florence "scoured the United States" for the best concepts. It also states that each installment of the six-episode season will take place in a different city across the country — with one team from each city winning the prize of a one-year lease in the mall featured in that episode, rent-free. Also, none of those states are Alabama. There's Mississippi, South Carolina (two episodes tape here, in two different cities), Michigan, Wisconsin, and Minnesota. But no Alabama.
Furthermore, according to Food Network, "the teams competing are all true restaurateurs," which suggests that the "come one, come all, no need to be professionals" premise was scrapped somewhere along the way, as well.
Sorry Alabama. Guess none of you adequately expressed an all-caps passion for the cuisine of your home state, coupled with a remotely feasible business plan.
RELATED: Gordon Ramsay Casting Alabama Food Court Competition Show Hosted By Tyler Florence
Have a tip we should know? tips@mediaite.com