WATCH: Mario Batali Not Buying Shake Shack's $1B IPO, Calls It 'Slightly Overvalued'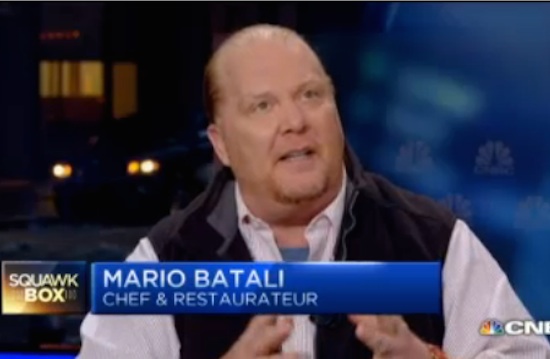 Is one restauranteur jealous of another, perhaps?
Mario Batali put on his business hat while talking to CNBC about being musical on his new show, we guess. (Remember how he does that now?) Of course, topic du jour of Shake Shack's massive IPO filing came up. When asked whether the valuation for Shake Shack at a whopping $1 billion made sense, Batali called it an "Americana play" for "nostalgic" burgers and shakes. But oh yeah, it's "slightly overvalued" for 63 restaurants and counting. "But at the end of the day, it is what it is," Batali said to CNBC, who noted that he did not take part in the IPO filing because he said he doesn't invest outside of his own projects.
Even though it might appear that Batali is not on the Shake Shack train to billionaire land, let's reconsider that Meyer isn't the only restauranteur going public — Batali is too! News reports have said that Eataly was considering a 2015-2016 IPO filing, but later Italian reports put that date at more 2016-2017. Compared to Shake Shack's 63 locations worldwide, Eataly has 27. According to the company website, 10 of those locations are in Italy, and (unbeknownst to us), 13 are in Japan. Despite lots of rumormongering, there's still only two (soon to be three) locations in the U.S., in New York and Chicago. Still, it appears while Meyer has the "Americana" vibe to rely on while opening more Shake Shack locations, Batali, the Bastianichs, and the rest of the Eataly gang have set their sights internationally. Will that put Eataly in the billionaire's club alongside Shake Shack? Talk about another IPO we'll be watching closely.
[CNBC]
Have a tip we should know? tips@mediaite.com