WATCH: Carla Hall Wears Non-Ironic Gold Lamee Disco Jumpsuit For 'Win A Date With Michael Symon'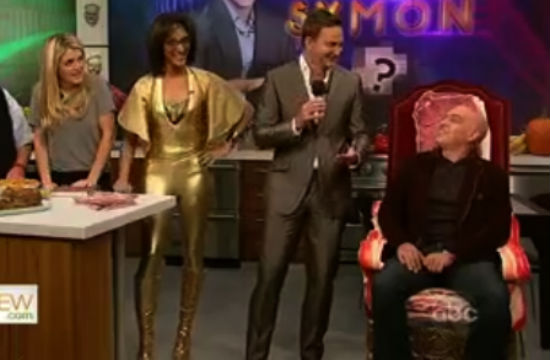 This is not a costume. Halloween is two weeks away. Carla Hall is not the Vanna White of this episode of The Chew. (Clinton Kelly is.) And yet: a stylist still chose to put the former model-turned-Top Chef: All-Star in a gold lamee disco inferno jumpsuit for the entire episode. The discothèque is on fire somewhere and the only prescription is more lamee. Or something.
The episode was The Bachelor-themed, and involved a dating game in which a home cook competed for a chance to win a dream date with Michael Symon. Of course, he's technically married to a lovely woman named Liz, but a quick, ABC-subsidized trip to the shoe store was apparently enough for her to cosign. Ah, the security of marriage. She seemed more than happy, in fact, to give up her husband to a strange woman for a night, because imagine, for a moment, being married to Michael Symon:
"Boo-hoo! The Cleveland Browns!"
"WAH! Fantasy Football!"
"O-H!" […silence]
Number one, why were we not invited to compete? Oh, it's a professional and moral conflict of interests? Okay, yeah, we can see that, but also, dreamporkdate with Michael Symon?! Come on! Let us play!
Check out the set-up below.
Each woman got to demonstrate her dish, and then this creepy/hilarious thing happened while Mario Batali was explaining his dream date with a fan earlier this season:
Wait, Mario's final gift to his date was delivering her to her husband at the end? We don't know whether to be weirded out or impressed by The Chew's remarkably progressive attitudes toward swinging.
Eventually, Tameka with her "smokin' bacon mac 'n' cheese" wins Michael's final rose, or whatever. Emily and her pulled BBQ chicken slider with broccoli slaw was first-runner up, proving three things. One, boys will always pick girls with whom they can watch sports. Two, pork always wins over birds. And three, Michael Symon is down with the swirl! Paging Andy Cohen.
Now, how can we enter to win a date with Carla's outfit?
Have a tip we should know? tips@mediaite.com