WATCH: Top Chef Masters Fan Favorite Announced, Twitter Account For Chris Cosentino's Dimples Born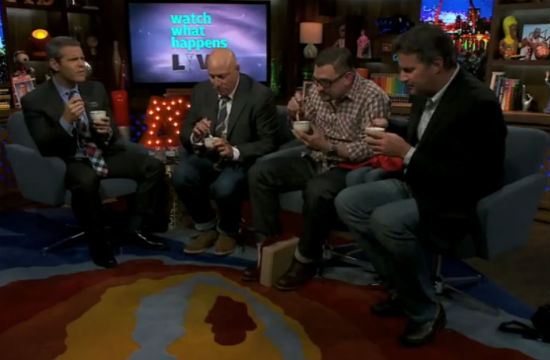 On last night's Watch What Happens Live, Andy Cohen welcomed Top Chef Masters winner Chris Cosentino, runner-up Kerry Heffernan, and regular Top Chef judge/executive producer Tom Colocchio as his honored guests. Oh, and Mike Isabella was bartending. Obviously, it was a shitshow, in the best possible way.
The night's events included a special "Hair's What" segment in place of its usual Here's What, which involved superimposing different hair styles on the world's baldest chef, Tom Colicchio. However, more serious matters were attended to, as well. For example: a Top Chef Masters fan favorite was crowned. The decision came down to Takashi vs Lorena Garcia. When Andy asked his guests who they thought should win, Takashi-san received the unanimous vote, but not before Tom sneered, "Well is [the fan favorite contest] sponsored by Taco Bell?" Ouch!
Moral of the story: nobody likes that Gorena Larcia lady. (And, for the record, Takashi won, and the American Red Cross got a bonus check.)
Of course, Questions from the Audience Time was endlessly entertaining; Padma tweeted that she hoped all the boys at home were having fun tuning in for their fave gay bear icon Tom (who was sporting some hipster glasses!). Another viewer tweeted gushing over Chris Cosentino's adorable dimples, suggesting that they should get their own Twitter account. Chris joked, "I'll get right on that." Joke's on him, though. The internet delivered. As of this morning, @offaldimples is a thing.
Last night was chock full of awesome in a short, 30-minute period, but our favorite parts were the after show, natch, where Chris Cosentino can get away with things like giving Andy Cohen a "Lips and Assholes: The Other Other White Meat" t-shirt. Check out parts one and two of the after hours taping below. Bonus material includes a woman high on prescription opiates calling in, and Andy Cohen breaking fast with shellfish! L'shanah tovah and mazel tov to Chris!
Have a tip we should know? [email protected]