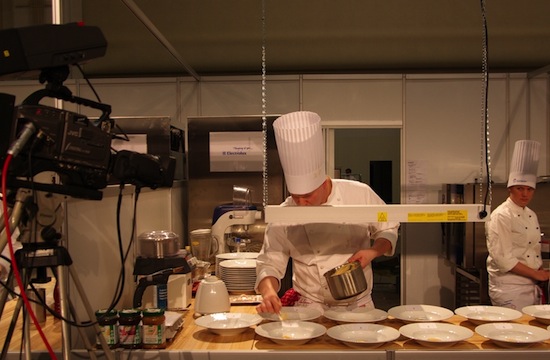 Amidst the occasional Nutella rants and goofy Game of Thrones mash-ups, it might be easy for a casual reader of The Braiser to forget what it is, very precisely, that we do here. I like to point the confused towards the title of the browser tab when looking at the home page to remind them — "News and Opinion on Celebrity Chefs." We're not food writers (in spite of our strong feelings about Nutella), and we're not restaurant critics. You might even take a look at our inaugural "Letter From The Editor" that ran the day we launched, almost a year ago, which, in part, expounds on the implications of food culture we specifically delve into:
"The Braiser is here to bring the personalities behind the food you eat and love (or hate!) to the forefront. What we eat, where we eat, and how we eat it is a focal point of how we define community, family, and culture in this country and around the world. And the people who help us do that are going to get our attention — though some, obviously, much more than others."
Admittedly, the world of legitimate, "celebrity"-grade chefs is uber-niche. We're criticized for being relentless Anthony Bourdain and Eddie Huang sympathizers who over-expose them. True though that may be, the reason journalists latch onto these two — the reason pretty much every time they speak, it warrants a news story — is because they are two clear, distinct, and thoughtful voices in a sea of celebrity chefs who are so viciously castrated by their PR people that we can barely resist the urge to take a quick snooze during a cooking segment or interview transcript (we are, after all, as Amanda Cohen once pointed out, "over-worked and deadline oppressed").
But we aren't exclusively interested in the heavy hitters; we do our fair share of nurturing promising young upstarts, in order for readers to have a source to revisit once they hit it big (see: our moderate obsession rapport with Justin Warner). And it was in this spirit that I agreed to go check out a young vegan chef (real young; like, not yet able to legally drink young) who was hosting a two-night pop-up in New York City in anticipation of opening his own restaurant later this year. The story writes itself: a kid barely out of his teens running his own kitchen? This thrummed heartily with the pulse of the baby chef beat on which we keep our fingers firmly pressed. Why not go see what this guy can do?
I had been corresponding with both the chef and his PR person for ten days leading up to the event. They graciously allowed me a media spot, gave me a seat in the open kitchen area, so that I could chat with the chef as the meal progressed, and even offered me an interview at 10:00 PM, when they assured me the dinner would end. Dear, young whippersnapper, I thought to myself. He is most definitely not going to want to give an interview after firing eight courses and schmoozing with the crowd. I assured them that an interview the night of wasn't necessary, but that we could schedule something more formal once the craziness surrounding the event had died down. Pop-ups, by nature, are always a hectic mess, no? I was happy simply to sit in his kitchen and watch the young man do his thing, getting a feel for the kind of chef he was, his point of view, where he was going, and what he was trying to accomplish. I went to hear his voice.
I walked up to the pop-up venue at 7:05 PM for a 7 o'clock seating time, with a friend I had brought along to save me from my own spinsterdom. There was a long line outside the venue waiting to get in, but I was relieved we hadn't missed anything. They must not have opened the doors yet, I surmised. But then I noticed that people were being a allowed in, and seated, in a painstakingly slow trickle. It seemed odd. It was 7:20 PM and I was still waiting outside. I wandered up to the door to see if there was some separate press line I was missing. There didn't appear to be and, after being ignored by the woman at the door for some time, I told myself I was being bratty for trying to pull "the press card" to skip the line. I resumed my spot in the throng, next to my friend, and waited my turn.
When we got to the front of the line, the woman at the door permitted us entry and vaguely directed us to the main dining room. We stood at the entrance to the dining room and no one was there to seat us. We stood waiting, uncomfortable, and clearly in the way of the waitstaff trying to rush drinks to the people already seated. I was also confused, because hadn't we secured spots in the open kitchen so that we could speak with Chef? I finally got the attention of the woman who pointed us to the dining room, and told her we were supposed to be sitting in the open kitchen. Our tickets apparently said otherwise and we were on no such list. "I'm press…?" I offered, hoping this would clear things up. I showed her the email I had from the chef himself, clearly indicating I was invited to sit in the open kitchen. She disappeared.
A few minutes later, a gentleman came to greet us and apologized profusely for the mix-up. A lot of media had responded that morning and been bumped into the open kitchen seats at the last minute, he told us. They had overbooked the space because there were too many "lists" floating around. The chef had probably given me a spot in the open kitchen not realizing how many members of the press were coming, he said. Buzzwords like "Food Network," "NBC," and "agents" were dropped.
"There's really just press sitting in there right now," he told me.
"I'm press," I almost-but-not-quite inappropriately snapped after his long-winded explanation.
"Oh!" He was surprised. "Who are you…?"
Have a tip we should know? tips@mediaite.com