Biden Accuser's Mother Reportedly Mentioned Daughter's 'Problems' With a 'Prominent Senator' in 1993 Call to Larry King Live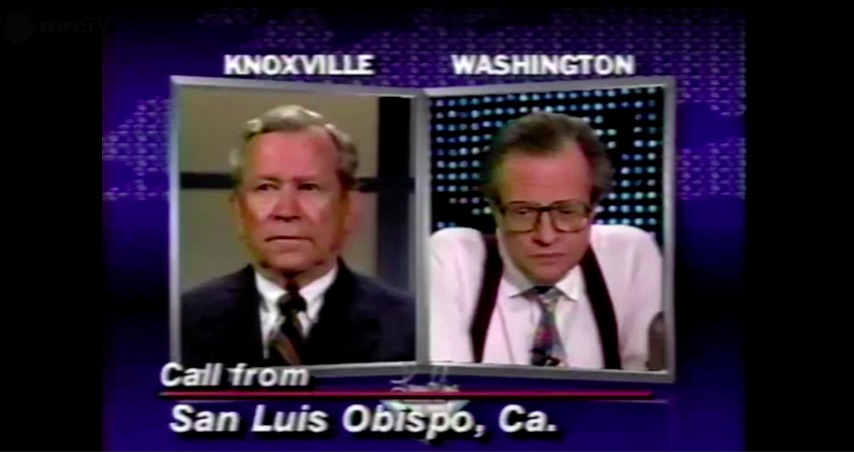 Tara Reade's mother reportedly called in to CNN's Larry King Live in the summer of 1993 to talk about her daughter's "problems" with a "prominent senator." Reade has accused presumptive Democratic presidential nominee Joe Biden of sexually assaulting her in the spring of 1993 while she was on his senatorial staff.
According to a new report in The Intercept, Reade's mother, Jeanette Altimus, was the person who complained on her daughter's behalf about an unnamed senator during the August 11, 1993 episode of Larry King's popular call-in show. Though the caller was not named — only identified as being from San Luis Obispo, California — Reade confirmed to The Intercept that the voice heard on the line for about a minute was her late mother, who passed away in 2016.
In August '93, the month Tara Reade left Biden's office, a woman called the Larry King show saying her daughter had problems at a prominent senator's office but did not want to go to the press about it. The woman was Reade's late mother. https://t.co/KHpqDlrpOG pic.twitter.com/9SnX6P6gI7

— Ryan Grim (@ryangrim) April 24, 2020
The Biden campaign has strenuously denied Reade's charges as have senior members of his former senatorial staff.
Here is the transcript of the exchange with King, who turned the discussion with his guests to Washington leaks and did not directly address the caller's complaint.
CALLER: Yes, hello. I'm wondering what a staffer would do besides go to the press in Washington? My daughter has just left there, after working for a prominent senator, and could not get through with her problems at all, and the only thing she could have done was go to the press, and she chose not to do it out of respect for him.

KING: In other words, she had a story to tell but, out of respect for the person she worked for, she didn't tell it?

CALLER: That's true.
In her initial recollection, Reade said she thought her mother had mentioned her sexual assault to King on air. But Altimus did not, and instead only mentioned her daughter's ambiguous "problems." Her mother's account does offer some contemporaneous verification that Reade was dissatisfied and upset about her boss, then-Senator Biden, over some issue. Reade's account of having been attacked by Biden has been corroborated to some degree by her brother and by an anonymous friend, who have asserted that she spoke to them about the assault not long after it allegedly happened 27 years ago.
But her mother's comments don't provide any specific corroboration of the sexual assault allegation.
Have a tip we should know? tips@mediaite.com