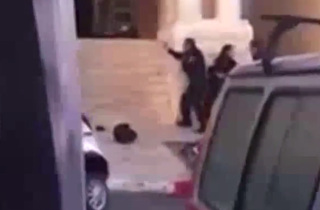 Four worshippers, three of them Americans, were killed last night in a brutal attack on a Jewish synagogue by two Palestinian men armed with pistols and meat cleavers.
Six more were injured in the chaotic event, which ended when Israeli police shot and killed the two attackers, believed to be cousins from East Jerusalem and members of the Popular Front for the Liberation of Palestine. (The PFLP praised the attacks, but did not claim responsibility for them.)
"There were people running from the synagogue, and a man sitting on the pavement covered in blood, it looked like he has been stabbed," local resident Sarah Abrahams told The Guardian. "Two people came out with their faces half missing, looking like they'd been attacked with knives." (IDF spokesman Peter Lerner has some photos from the scene, which are extraordinarily graphic.)
The BBC is reporting that the victims were US citizens Rabbi Moshe Twersky, 59, head of the ultra-orthodox Jewish seminary, Arieh Kupinsky, 43, and Kalman Levi, 55. The fourth victim, Avraham Goldberg, 68, is a UK citizen.
Israeli prime minister Benjamin Netanyahu promised to respond, according to a statement posted on Facebook. "This is the direct result of the incitement being led by Hamas and Abu Mazen, incitement which the international community is irresponsibly ignoring. We will respond with a heavy hand to the brutal murder of Jews who came to pray and were met by reprehensible murderers."
Hours ago, Secretary of State John Kerry called on Palestinian counterparts "at every single level of leadership to condemn this in the most powerful terms."
"To have this kind of act, which is a pure result of incitement, of calls for 'days of rage,' of just irresponsibility, is unacceptable," he said while in London.
In response, Mahmoud Abbas, head of Palestine's Fatah party, also denounced the killings: "The presidency condemns the attack on Jewish worshippers in their place of prayer and condemns the killing of civilians no matter who is doing it."
Hamas, however, praised the attack: "The operation in Jerusalem is a response to the murder of the martyr Yusuf Ramuni and to the series of crimes by the occupier at Al-Aqsa," Hamas spokesman Sami Abu Zuhri said in a statement, linking the attack to the controversial death of a Palestinian bus driver who was found hanged. "Hamas calls for more operations like it."
An unknown bystander managed to capture the footage of the shootout below:
[h/t BBC]
[Image via screenshot/YouTube]
—
>> Follow Tina Nguyen (@Tina_Nguyen) on Twitter
Have a tip we should know? tips@mediaite.com