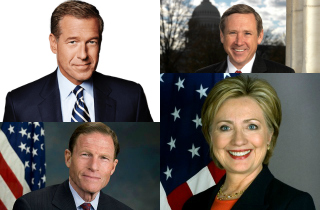 By now you may have heard that a certain NBC News anchor has been repeatedly fibbing (or misremembering, as he would have it) about having been on a helicopter shot down by an RPG during the Iraq War.
It turns out that Brian Williams isn't the only major public figure to have lied about or misrepresented his or her war zone experiences. Let's take a look:

Hillary Clinton
During the 2008 Democratic primaries, Clinton falsely stated, during a speech and several interviews, that she and daughter Chelsea came under sniper fire upon visiting Bosnia in 1996. "There was supposed to be some kind of greeting ceremony at the airport," she told the public, "but instead we just ran with our heads down to get into the vehicles to get to our base."
Of course, that story turned out to be false. Video emerged showing no signs of gunfire or tension upon the then-first lady's arrival. "I did make a mistake in talking about it," she eventually told reporters, adding that she had a "different memory" of the landing.
Clinton lost the primary to Barack Obama, but went on to serve in his administration as the 67th Secretary of State.
—
Mark Kirk
This Republican U.S. Senator didn't so much outright lie about his own military service as trickily and frequently misrepresent it to the public.
During his tenure in the U.S. House of Representatives, Kirk touted himself as the only member of Congress to serve "in" the 2003 invasion of Iraq. On the contrary, he was a Navy reservist serving stateside as an intelligence officer. "Unintentional errors do happen," Kirk said at the time.
During his 2010 Senate campaign, Kirk was caught with three more misstatements about his military service. The first claim was found in a 2009 letter he sent to his congressional district, describing him as having served in Operation Desert Storm, the first U.S.-led battle with Iraq that began in 1990. Kirk did not participate in that war, but was a reservist in Maryland at the time. He pinned the mistake on a staffer.
Kirk also took responsibility for claiming on the House floor, seven years prior, that he came under fire while flying intel mission over Northern Iraq. Since there was no evidence to back his claim, he admitted that the story may not be true. "I simply misremembered it wrong," he said.
The senator also claimed to have personally won the U.S. Navy's "Intelligence Officer of the Year" award in 1999 — but it was a different award given to his entire unit by a professional group.
"I would describe them as mistakes," Kirk told the Chicago Tribune. He won the Senate seat and is currently still serving.
—
Richard Blumenthal
During the 1970s, this current Democratic senator from Connecticut served in United States Marine Corps Reserve units in both D.C. and Connecticut, eventually obtaining the rank of sergeant.
Blumenthal never served overseas, yet that didn't stop him from referring to himself in a 2008 speech as having served in Vietnam. "We have learned something important since the days that I served in Vietnam," he told the crowd. Another comment, from 2003, showed Blumenthal suggesting he was among those to "return home" from Vietnam.
Those statements were picked up by the New York Times during Blumenthal's 2010 Senate campaign and temporarily shrank his lead over Republican opponent Linda McMahon.
Blumenthal supporters went after the media for nitpicking the difference between saying "in" or "during," and he issued his own statement, slightly indignant about how the misstatements had been used: "On a few occasions I have misspoken about my service, and I regret that and I take full responsibility. But I will not allow anyone to take a few misplaced words and impugn my record of service to our country."
He won the Senate campaign.
—
Tom Harkin
The recently-retired Democratic legislator from Iowa came under fire during the 1984 Senate elections for his 1979 comments suggesting he flew combat missions over North Vietnam. "One year was in Vietnam. I was flying F-4s and F-8s on combat air patrols and photo-reconnaissance support missions. I did no bombing," he said.
Of course, that turned out to be inaccurate. During the Vietnam War, Harkin was stationed at a naval station in Japan, ferrying damaged aircraft to and from Vietnam, and testing them after repairs had been made. After repeated inquiries, he eventually conceded to the Wall Street Journal that he never flew combat patrols during that war.
And as for the claims of F-4 and F-8 patrol piloting? That happened later, while stationed at Guantanamo Bay.
—
So do you notice a trend? Thus far, all five of these people have gotten away with misremembering, mistakenly identifying, and/or lying about their war zone experiences:
Kirk still serves in the U.S. Senate, and his apologies were largely accepted by the military community; Clinton became Secretary of State and is a likely Democratic 2016 presidential candidate; Blumenthal was elected to the U.S. Senate, and his own commanding officer said his blunder shouldn't prevent him from serving office; Harkin served 30 years in the Senate until his retirement this year.
No one should be surprised when elected officials get away with even the slightest "misremembering" of details — that's pretty much a job requirement these days. But what about a revered newsman in a business predicated entirely on accuracy and truth-telling?
[Editor's note: This post has been updated with the addition of Tom Harkin.]
— —
>> Follow Andrew Kirell (@AndrewKirell) on Twitter
Have a tip we should know? tips@mediaite.com