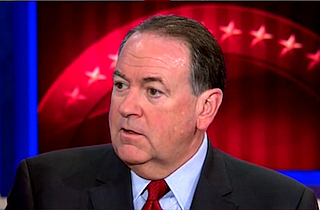 After news broke yesterday that Mike Huckabee used to be the kind of guy who thought dancing was anti-Christian, the former Republican governor defended himself with the argument: Hey, it's not like I admitted to drug use, like some other potential GOP presidential candidates.
During an appearance on Tony Perkins' Washington Watch radio show, Huckabee, who is probably going to run for president in 2016, laughed at the hullabaloo surrounding columns he'd written as a teenager in Arkansas, in which baby Huckabee railed against swearing, soap operas, and hilariously, dancing. (Again! Footloose plot! Him!)
Huckabee seems to be taking it in stride, reports BuzzFeed, as he told Perkins that it's not the worst thing people could say about him.
"Rather than let get me down and make me all depressed, I just take it as, wow, the worst thing they can say about us is that we truly believe that the scripture teaches us to live a circumspect life," he said, "okay, well, you got me, I plead guilty, and we'll find something else to be upset about. "
And prior to that, he pointed out that there are people — specifically, other potential GOP candidates — who've admitted to much worse things:
Anyway, the funniest thing, I mean, I read this and I laughed out loud and I said, while other candidates are being outed for their teenage drug use, their teenage alcohol use, their teenage partying hard, doing all sorts of destructive things like painting graffiti on bridges. The scandal with me is that I wrote a column at age 17 telling Christian young people to live a godly life. So, I mean, I just had to say, is this really controversial? I'd much rather have to defend this than say, yes, I used to regularly be apart of the choom gang. It's just bizarre.
So in short, did Huckabee take these comments and…shake 'em off, shake 'em off?! (We're not apologizing for the overload of dance song references in our coverage, because really, this story was built for them.)
In all seriousness, Huckabee does have a point: The last few weeks have been chockablock with GOP candidates admitting or alluding to smoking marijuana in the past. The worst sin Huckabee admitted to during his appearance, however, was being a dork about the rap musics.
"So the term the 'Rapture Express' came from the very popular term in the 70's for 'rap,' meaning to converse and of course rapture was something we were all talking about in the 70s. So much talking about the second coming.
Shake it off.
Listen below via FRC:
[h/t BuzzFeed]
[Image via screenshot/Fox]
—
>> Follow Tina Nguyen (@Tina_Nguyen) on Twitter
Have a tip we should know? tips@mediaite.com