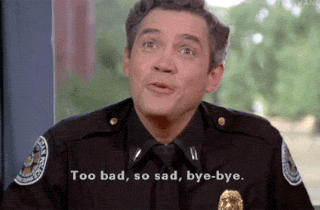 Three years ago I sat on my fire escape, nursing a beer at 2 a.m., weighing whether to leave a comfortable job in cable news for a risky one poking fun at it. And earlier this month, I made a similarly tough decision to leap from a website I've helped build into a success to a larger outlet with newer challenges.
And so today is my final day with Mediaite.

I came to this website hoping to stir the pot with the very executives, producers, anchors, and reporters I once called my colleagues. And over the next 40-plus months, I'd go on to make clear my distaste for the blowhards, the fire-breathing partisans, the hucksters, the smug fail-uppers, and the hypocrites.
And what fun I've had: I've been called a "moron" and "buffoon" by Glenn Beck, a liberal "hatchet man" by Bill O'Reilly (over this), a "conservative blogger" by Rachel Maddow, and a "nerd" by Mark Levin. I've had the dubious honor of giving Todd Starnes way more oxygen than he deserves; but also the pleasure of shining light on the glimmers of hope for this business.
I've shined a light on my pet issues before they became national topics du jour; defended the indefensible; made some humbling mistakes; and had the privilege of hosting panel discussions on government surveillance and over-criminalization. And beyond the absurdity of political media, I've also had the editorial freedom to occasionally write about my true love: music. Lots and lots of it.
And along with an incredible team of writers and editors, I've been a part of Mediaite nearly doubling its traffic, shattering its own records month after month. I'm so proud of the work we've all accomplished here. It's been a helluva ride.
And now's the part where I thank various people as if this were an awards ceremony. (Except, thankfully, there's no cut-off music.)
First, of course, I thank Dan Abrams for the immense opportunity he gave me after I cold-emailed him in February 2012. Recognizing the cable news obsessive in me (who also happens to loathe cable news), Dan gave me the platform to grow confident in my own voice and encouraged me to report on, snark at, and start feuds with the many loudmouths that populate our media.
To Jon Nicosia, whose presence and sense of humor gives Mediaite a sense of calm and consistency. Without his faithful, trusting ear, and ability to laugh through the madness, I'd definitely have lost my mind ages ago. And I'm grateful to have had him by my side (virtually, via Gchat) while covering the good, the bad, and the ugly in news.
To the many ex-Mediaite writers with whom I've shared an office, namely: Frances Martel, Tina Nguyen, Evan McMurry, Glenn Davis, Alex Alvarez, Meenal Vamburkar, Noah Rothman, Jon Bershad, and Jamie Crugnale. I'm grateful for the lasting friendships, and the countless drinking hours we've shared. And also for this never-before-seen picture from June 2012: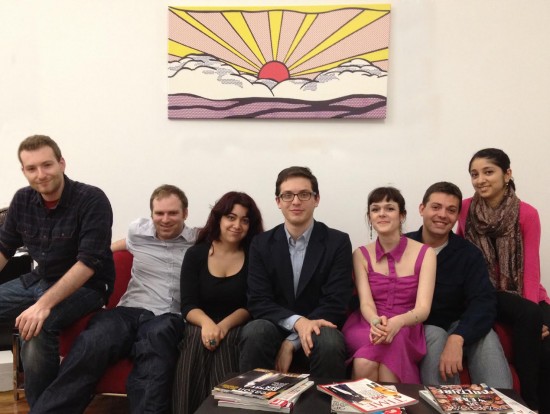 To Bridget Williams and John Vorwald, whose in-the-trenches leadership style helped shape my own managerial skills. Thank you both for putting up with my neuroses and seeing potential in me; and for making music in the office a thing that didn't need to be terrible.
To the current crop of Mediaite writers I leave behind — Matt Wilstein, Josh Feldman, Joe Concha, Alex Griswold, Drew Husband, Andrew Desiderio, Ken Meyer, Tommy Christopher (version 2.0), etc. — I give you my everlasting pride. I know I hide it behind sarcasm and a calm demeanor, but I'm so very proud of the work you all do, and the back-breaking effort you put into each and every day. This is a tough industry — no one knows what the future holds for it — and I can only hope each of you special snowflakes get the very best from it.
To the Mediaite comments section: I'd say I won't miss you, but part of me will. Writers rarely engage with commenters — it requires superior intestinal fortitude — but I've actually enjoyed the times I've answered questions, taken feedback, trolled, or joked around with you all. Stay weird. And just try not to be so racist.
And of course, to the readers: You are literally what drives us to do our jobs on a daily basis. We aim to please you, entertain you, and occasionally enlighten you; and you've rewarded our hard efforts with big traffic numbers. Thank you for wanting to read what we have to offer. Thank you for clicking on my screeds.
To paraphrase one of my favorite songwriters: Now I bid you all farewell, I don't know when I'll be back. They're moving me tomorrow to that tower down the track. But you'll be hearing from me, baby, long after I'm gone. I'll be speaking to you sweetly from a window in the tower of The Daily Beast.
— —
>> Follow Andrew Kirell (@AndrewKirell) on Twitter or else.
Have a tip we should know? [email protected]