A Freaky Friday Told Us Everything About the War Between Trump and the News Media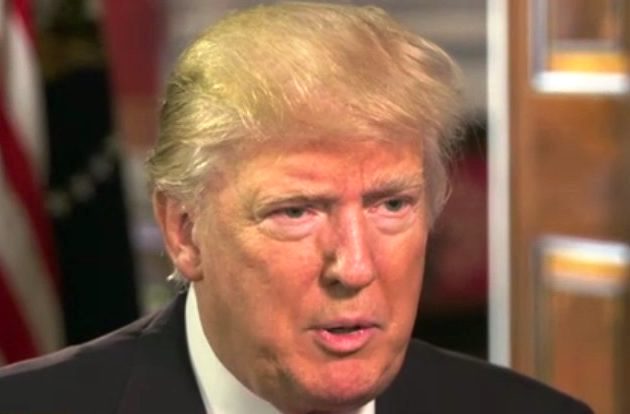 Fridays, except for the classically planned late-afternoon dump of bad news, are notoriously slow for the news media. However, in the era of Trump there is simply no such thing as an off day. Yesterday, despite nothing perceived as earth-shattering happening (it is becoming difficult to tell what qualifies as such anymore), provided a jam-packed nine hours of remarkable news directly related to the on-going epic struggle between the Trump administration and the news media.
In fact, when historians look back on the start of Trump's "reign" as president and try to understand just how quickly things got totally insane, they will need to look no further than Friday's Twitter feed for this website (assuming Twitter still exists that long into the future, which I doubt).
A quick look through the Mediate Twitter timeline will tell you everything you need to know about how the media is crushing Trump, thanks largely to his own very deep flaws, and yet he still remains largely unscathed.
The day began with news from The Washington Post which, in a bygone era would have easily resulted in the instant resignation or firing of National Security Advisor Michael Flynn. They have NINE sources telling them that Flynn, contrary to his own prior account, discussed possibly lifting U.S. sanctions with the Russian Ambassador right after President Obama announced Russia's punishment for attempting to influence our election via illegal hacking. There even appears to be a transcript of these communications.
Later we learned that Vice President Mike Pence, who had previously declaratively said on television that there was no discussion of sanctions between Flynn and the Russians, was backing off that story and apparently now believes that Flynn lied to him about this. Then, even Kellyanne Conway (who admitted earlier this week that Trump himself lies regularly) couldn't bring herself to defend Flynn, indicating that the NSA's career might eventually be in greater jeopardy than that of Tiger Woods.
Friday morning, like almost every morning these days, also had a Trump Twitter Tantrum with him accusing The New York Times of engaging in "fake news" for a story which was only temporarily incomplete (it was updated in later editions) because the White House had not yet informed anyone of a phone call which Trump had with the president of China. It's pretty rich when our president, who is still routinely claiming (as was reported again on Friday), absurdly, that that millions of illegal votes cost him the popular vote and even New Hampshire is willing to go out of his way to call an accurate report "fake," simply to inoculate his cult-like following from any potentially negative information they might accidentally stumble across. However, that's where we are three weeks into this crapstorm.
At this same time, Trump also tweeted a quote from a law blog which he incorrectly thought was making his argument contradicting the 9th Circuit Court of Appeals ruling against his travel ban, apparently because he misunderstood a graphic while watching MSNBC. In an alternative universe this would be a week-long story, instead Mediaite understandably didn't even have space for a post on it.
As the day moved on, we learned that Conway had apologized to Trump for an event the prior day which, in any other prior administration would have also led to a firing/resignation. In case you were concerned that Conway had literally turned the White House into QVC by openly hocking the wares of poor put upon Ivanka Trump who had to endure her clothing line being dropped by Nordstrom due to diminishing sales, have no fear. Her apology (which must have been like a porn star asking for forgiveness from her co-star for having gone too far in trying to please him) was accepted, and Trump, instead of firing her as he should have, apparently backed her 100%, with most of the "conservative" media following their King's lead.
As much of a joke as that was, Trump was apparently in no laughing mood when it came to yucking it up about Melissa McCarthy's epic SNL takedown of Sean Spicer. It was reported Friday that Spicer wanted to make light of the whole episode, but that the King was apparently not pleased and gave the idea a thumbs down.
Then came a bizarre joint "press conference" between Trump and the Prime Minister of Japan. Trump only took two questions, both of which, surely by coincidence, were from supportive media outlets owned by Rupert Murdoch (who, it should be noted, secretly sat in on another of his outlet's recent interview with Trump). Amazingly, even while only facing very friendly "fire" (no question about Flynn?!) Trump was still displeased with having to answer an obvious question about the travel ban ruling.
As if we needed further proof, we also learned that it is now impossible to parody fervent Trump supporters. A poll came out indicating that most of them believe that the mythological "Bowling Green Massacre" is a justification of Trump's proposed travel ban. This is a poll, gauging the impact of "fake news," spread by a regime which constantly condemns "fake news," which will surely be discarded by their supporters as, you guessed it, "fake news."
The second biggest news story of the day (after the Flynn scandal) was at least indirectly related and came, strangely, near the end of the day. CNN reported that U.S. investigators have corroborated at least parts of the infamous "Russian Dossier" which indicated that Russia has compromising information on Trump (thus vindicating my defense of Buzzfeed's publication of the document and what former CIA Director Michael Hayden told me in my podcast). In any other administration, at this point at least one Republican would be at least calling for a full investigation and possibly even Trump's impeachment. Instead, Trump's spokesperson simply called it, stop me if you have heard this before, "fake news."
Finally, late Friday came word that, totally consistent with the idea that Trump and Russia have an all-too-cozy relationship, Putin may hand over Edward Snowden as a gift to our new president. Of course, this is probably news to Trump because, in what is either a horrendous lie or an indication of something even greater being very wrong, Trump claimed, when finally pressed at an informal gathering, that he wasn't even aware of the story involving Flynn and the Russian sanctions.
Whew. I'm exhausted.
I keep thinking that there is just no way that events can continue at this pace, and yet I can't come up with a rational scenario for how it ever ends. Congratulations America. This is what you asked for and now there is no going back.
— —
John Ziegler hosts a weekly podcast focusing on news media issues and is documentary filmmaker. You can follow him on Twitter at @ZigManFreud or email him at johnz@mediaite.com
This is an opinion piece. The views expressed in this article are those of just the author.