Jason Chaffetz Claims Angry Town Hall Attendees Were Paid 'To Bully and Intimidate'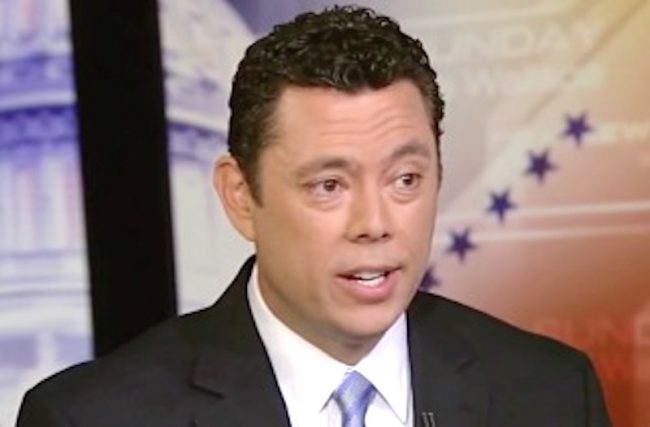 On Thursday night, Rep. Jason Chaffetz (R-UT) was confronted by a large raucous crowd at a town hall meeting with his constituents. Chaffetz, who chairs the House Oversight Committee, was consistently greeted with boos and jeers, with attendees yelling at him to do his job when it came to providing oversight of President Donald Trump.
Despite the numerous instances of members of Congress (mostly Republican) dealing with overflow crowds recently at town halls due to angry constituents concerned that Obamacare will be repealed, Chaffetz feels that his town hall was infiltrated by protesters paid by liberal organizations.
Speaking to the Deseret News on Friday, the Utah lawmaker stated that the reception he received was "bullying and an attempt at intimidation." He further noted that it was a "concerted effort in part to just cause chaos," claiming one could "see it online a couple days before."
He also expressed his belief that those who showed up at the town hall not only were paid, but also were from out of state.
Chaffetz said the crowd that filled the auditorium at Brighton High School in Cottonwood Heights and spilled over into a protest outside included people brought in from other states to disrupt the meeting.

"Absolutely. I know there were," he said, suggesting it was "more of a paid attempt to bully and intimidate" than a reflection of the feelings of his 3rd District constituents.

Asked who would foot the bill to fill the audience with outside agitators, Chaffetz said, "do some reporting" and described how one participant made it a point to say he was not being paid by a national Democratic organization.
However, a Democratic state representative disputed that claim, saying she believed that most of the thousand attendees in the auditorium were residents of Chaffetz's district. (Hundreds protested outside of the auditorium since the hall was full.)
Chaffetz appears to be parroting a line from Trump himself when it comes to accusing the left of being paid to protest. Last week, the president sent out the following tweet:
Professional anarchists, thugs and paid protesters are proving the point of the millions of people who voted to MAKE AMERICA GREAT AGAIN!

— Donald J. Trump (@realDonaldTrump) February 3, 2017
[image via screengrab]
–
Follow Justin Baragona on Twitter: @justinbaragona
Have a tip we should know? tips@mediaite.com