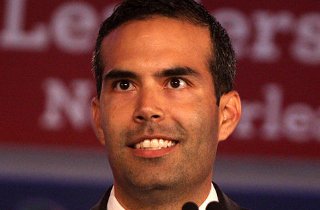 There is a familiar lone star on the rise—Bush, George Bush—and his chapter of the oligarchy comes with a new twist.
The 37-year-old George P. Bush, son of former Florida Governor Jeb Bush, easily defeated primary opponent David Watts for the Republican nomination as Texas Land Commissioner—a position that should lead to loftier horizons. The Associated Press called the race one hour after voting closed—and probably could have done it when King George III crowned 37 years prior.
It's as if this newer model—featuring mainstays like wealth, wealth, wealth and a furrowed brow— hails directly from a GOP lab manufacturing ideal presidential candidates. The son of Mexican-born Columba Bush, the Dallas lawyer speaks fluent Spanish while rocking a four-letter-word of a last name that tells voters: "Hush, child, I'm not that different."
The pro-life, pro-gun, pro-energy candidate used his namesake to raise $3.5 million for the campaign, and celebrated, you guessed it, at a Mexican restaurant with his mother. "We don't have to change our conservative principles to win, we just need to change our tactics," Bush championed at his victory party where he spoke both English and Spanish as he has done throughout his campaign.
The legacy project now takes on former El Paso Mayor John Cook this November for the powerful position that manages billions of dollars in state-controlled lands and mineral rights properties. Victory is likely.
One thing seems certain: Chelsea Clinton has officially found her 2032 presidential opponent. Democrats hope she didn't take French.
[Image via Gage Skidmore]
— —
>> Clark Young is, above all things, a Mainer and Red Sox fan. Follow him on Twitter here.
Have a tip we should know? tips@mediaite.com