ABC Earns a C for Democratic Debate Broadcast For 3 Reasons You Wouldn't Expect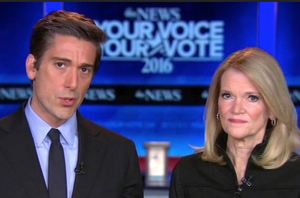 The third and final Democratic presidential debate of 2015 is in the books. For those of you who were at a holiday party (me), watching Jets-Cowboys (19-16 last-minute victory for New York), watching the bowl games (five down yesterday, only 35 to go!), watching Star Wars (on track for a $240 million opening weekend) or traveling, here's a recap of how ABC performed last night:
Moderators: B+. Asked (mostly) solid, timely, relevant questions. No editorializing or grandstanding. Challenged the candidates when warranted. Note: Martha Raddatz is a veteran of foreign affairs and policy, has served as ABC's State Department correspondent, senior national security correspondent and senior foreign affairs correspondent in her 17 years at the network, and therefore was the best resource for the job. David Muir was polished and prepared, as expected, and didn't make anyone yearn for George Stephanopoulos (who donated to the Clinton Foundation over a three-year period without revealing such, forcing him to rescue himself from moderating this debate after the controversy blew up following a Washington Free Beacon investigation revealing said donations). Sometimes it's better to be invisible in these situations, and both moderators pretty much accomplished that.
But here's the thing about moderating: You can do a perfect job for most of the two hours broadcast to a national audience, but if a few things stand out that can't be deemed positive to the overall performance, that's all anyone remembers. And here's a few examples of where one moderator and ABC's production team (broadcast and especially online) screwed up, respectively:
1) The bathroom break that went too long: During commercial breaks for the debates, some candidates feel a need to relieve themselves (sipping water to keep the pipes moist is common, understandable but as the saying goes, you only rent liquid). And the for the second time in three debates, Hillary Clinton took a little longer in the bathroom than expected. So when ABC returned after said break last night, only two candidates were seen on stage (with the center podium missing its front-runner), which Muir was forced to acknowledge:
"Welcome back tonight. As you can see, we have a packed audience here in New Hampshire, and we're going to continue. We've already had a spirited conversation here at the top of the broadcast about ISIS, about concerns of terror here on the home front. And as we await Secretary Clinton back stage here, we're going to begin on the economy. We want to turn to American jobs, wages, and raises in this country. And do we believe Secretary Clinton will be coming around the corner any minute. But in the meantime we want to start with this…"
Now…since the length of the commercial breaks are locked in beforehand, there's two things the ABC control room could have done here: (A) Have one of the moderators (in this case, Muir) do something called stretch (broadcast term that calls on talent to keep talking about anything until whatever needs to be set is actually in place (oftentimes this means getting a sound bite or field reporter in place, but in this case, it was a candidate returning from the bathroom). And when the stretch is happening, cameras (in this instance) should have kept the focus on Muir until Clinton was back at her podium. The network didn't, showed Clinton was missing, and now that bathroom break is making the fodder rounds on the Sunday shows this morning as a result.
2) Martha Raddatz's spouse question: Many news programs oftentimes end with what's called a kicker. Basic definition: A kicker is invariably a fluffy or quirky story to help make transitioning out of the program easier while ending matters on a happy or comical note. In last night's case, Raddatz decided to go this route:
"Secretary Clinton — first ladies, as you well know, have used their position to work on important causes like literacy and drug abuse. But they also supervise the menus, the flowers, the holiday ornaments and White House decor. You have said that Bill Clinton is a great host and loves giving tours but may opt out of picking flower arrangements if you're elected. Bill Clinton aside, is it time to change the role of a president's spouse?"
Huffington Post reaction headline (Amanda Terkel): Democratic Candidates Were Asked An Awful Question About Presidential Spouses; No question about climate change, though.
Newsbuusters reaction headline: ABC's Raddatz Throws Softball to Hillary on First Spouses; 'Is It Time to Change the Role?'
Some kickers hit, some miss. Put this one in the latter category.
3) ABC's live-stream had issues throughout the broadcast, and Twitter let the network know it:
the ABC live stream has been… not very good.

— Hadas Gold (@Hadas_Gold) December 20, 2015
Are you kidding me @ABC? You can't keep a live stream running even in SD with AM-radio quality audio? Utterly incompetent #DemDebate

— Thomas Sorensen (@ThomasAJS) December 20, 2015
Loving the 20 seconds of the #DemDebate I can see at a time on the @ABC livestream

— Adam Marshall (@a_marshall_plan) December 20, 2015
both the DNC and ABC's livestream don't want us watching tonight's democratic debate

— Matt Binder (@MattBinder) December 20, 2015
Yikes. Well, at least ABC gets a second chance with a Republican debate on February 6th. Here's guessing the online issues will be resolved the next time around.
Three debates down for the Democrats, only two to go (six more on the GOP side). Last night's television audience will assuredly be the smallest of the eight debates held for both parties thus far. On this night, ABC earns a C for reasons one wouldn't expect.
UPDATE 12/21, 9:45 AM: ABC drew 6.7 million viewers for Saturday's telecast, making it the lowest-rated debate for either party thus far. The previous low was the last Democratic debate (also on a Saturday night) on CBS, which drew 8.5 million viewers. CNN attracted 18 million viewers for the last GOP debate this past Tuesday (12/15).
— —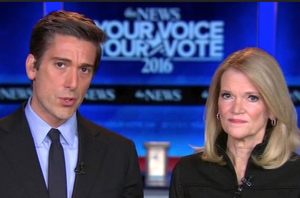 — —
Follow Joe Concha on Twitter @JoeConchaTV
This is an opinion piece. The views expressed in this article are those of just the author.