ABC News Investigation Prompts BMW To Issue A Voluntary Recall Of 130,000 Vehicles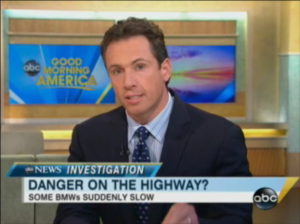 Cynics, beware: This story might just restore your faith in the media's ability to effect positive change. Four writers at ABC News are reporting that BMW has announced a voluntary recall of about 130,000 vehicles, all of which could be equipped with faulty fuel pumps. An ABC investigation into the flawed cars, led by ABC's Chris Cuomo, began last month; BMW's announcement comes one week after ABC contacted the company about their exposé.
Though BMW's statement about the recall doesn't mention ABC News by name, a representative admits that the network's investigation spurred the company to act. As Tom Baloga, BMW of North America's chief engineer, tells the authors of the online story that their inquiry "caused us to decide to take action sooner, rather than later."
Before the story broke, unhappy BMW owners had to make due with settlements that came attached to confidentiality agreements:
But BMW hasn't escaped legal challenge. Hundreds of claims have been brought against the company for fuel pump malfunctions, said lawyers across the country, including a recently filed California class action suit by Kenshaw, Cutter & Ratinoff, LLP.

Most of these legal actions have led to settlements on the condition that BMW drivers sign a confidentiality agreement, plaintiffs' lawyers told ABC News.

"If somebody is in an accident and they're hurt and BMW pays them enough, they sign the gag clause, and we don't hear about it," lemon law attorney Robert Silverman from Kimmel & Silverman, P.C. told ABC News.
Additionally, according to Silverman, until now, BMW has failed to warn its customers about the defect: "They don't want this story to come out. They can't fix
the car for cost reasons or they haven't configured a good fuel pump."
To read much more about the investigation and its aftermath—and to leave a hearty congratulations to the reporters that may have saved lives with this story—head over to ABCNews.com.
Have a tip we should know? tips@mediaite.com