Abe Foxman Sent Glenn Beck A Letter Apologizing For Calling Him An Anti-Semite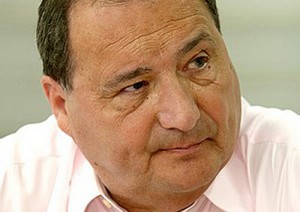 Yesterday, the Anti-Defamation League's Abe Foxman blasted Glenn Beck for making "completely inappropriate, offensive and over the top" remarks about George Soros. But just a few weeks ago, according to Beck's site The Blaze, Foxman was singing a different tune. On October 22, the ADL bigwig sent Beck a personal letter in which he apologized for mistakenly lumping the Fox News host in with a list of anti-Semitic celebrities.
Here's what the note, which is printed on official ADL letterhead, says:
Dear Glenn:

A direct-mail piece recently sent to some ADL supporters around the country inadvertently misidentified you on a list of celebrities who had made anti-Semitic statements over the past year.

This was clearly a mistake, and we deeply regret that your name was included in the mailing, which was produced by an independent, third-party contractor. I hope you will accept my personal apologies.

Even though we may disagree from time to time, I know that you are a friend of the Jewish people, and a friend of Israel.

Sincerely,
Abe
Abraham Foxman
National Director
Justin Elliott of Salon caught up with Foxman today to ask him about the Beck/Soros controversy, as well as the October 22 letter. In response, Foxman said he still believes Beck "is a strong supporter of Israel and the Jewish people"—though "there are certain things he doesn't understand, which have led him to make insensitive remarks."
Beck isn't an anti-Semite, then: He's simply a die-hard anti-Sorosite. See the letter for yourself at The Blaze.
Have a tip we should know? tips@mediaite.com