Acting DEA Head Stepping Down; Reportedly Thinks Trump Has 'Little Respect for the Law'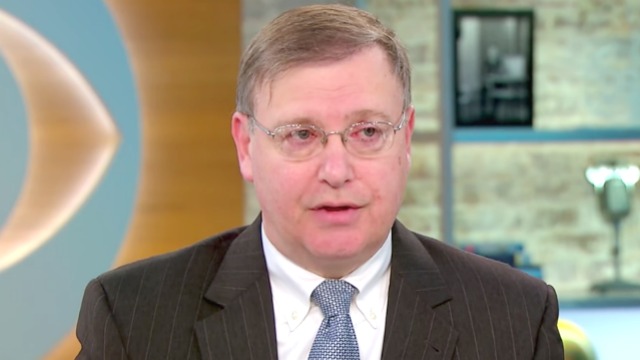 The acting head of the Drug Enforcement Agency is stepping down next week.
Chuck Rosenberg has been in the position since 2015, and according to The New York Times, being at odds with President Trump may be a reason why:
The acting head of the Drug Enforcement Administration will resign at the end of the week, according to law enforcement officials, who said he had become convinced that President Trump had little respect for the law.

The official, Chuck Rosenberg, who twice served as chief of staff to the former F.B.I. director James B. Comey and remains a close confidant, had grown disillusioned with Mr. Trump.
You may remember that back in July, the President spoke to police officers and said the following:
"When you see these thugs thrown into the back of a paddy wagon, you just see 'em thrown in. Rough. I said 'Please. Don't. Be. Too. Nice.' Like when you guys put somebody in the car, and you're protecting their head, you know? The way you put their hand over, like, don't hit their head, and they've just killed somebody. Don't hit their head. I said 'You can take the hand away,' Okay?"
Following that, Rosenberg sent out an email to staff––obtained by the Times––criticizing those remarks:
The head of the Drug Enforcement Administration said in an email to staff members over the weekend that President Trump had "condoned police misconduct" in remarking to officers in Long Island that they need not protect suspects' heads when loading them into police vehicles.

Acting DEA Administrator Chuck Rosenberg wrote that he felt obligated to respond to the president's comments "because we have an obligation to speak out when something is wrong." He cited the agency's core values — among them integrity, accountability and respect and compassion.

"This is how we conduct ourselves. This is how we treat those whom we encounter in our work: victims, witnesses, subjects, and defendants. This is who we are," Rosenberg wrote.
The news of Rosenberg stepping down has been independently reported elsewhere, and he's officially leaving October 1st.
[image via screengrab]
— —
Follow Josh Feldman on Twitter: @feldmaniac
Have a tip we should know? [email protected]
Josh Feldman - Senior Editor