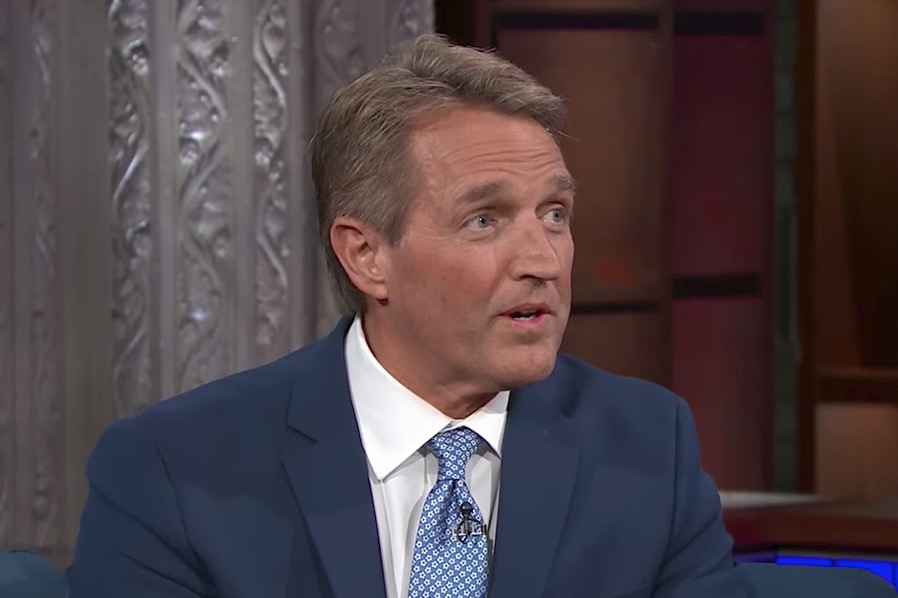 In a bout of morning bi-partisanship, Republican Senator Jeff Flake defended his Democratic colleague Sen. Chuck Schumer against President Donald Trump's claims he allowed for the immigration of the New York attacker.
Trump tweeted on Wednesday morning, after watching a Fox & Friends segment on the attack, that the Uzbek national who killed eight people and injured a dozen more came to the United States under a program called the Diversity Visa Lottery (this has yet to be confirmed.)
The terrorist came into our country through what is called the "Diversity Visa Lottery Program," a Chuck Schumer beauty. I want merit based.

— Donald J. Trump (@realDonaldTrump) November 1, 2017
That program was signed into law in 1990 by Republican President George H.W. Bush, according to the Washington Post, as part of an immigration bill introduced by Schumer, who was then a member of the House.
In the wake of Trump's tweet, Flake, who worked with Schumer on efforts to pass immigration reform in 2013, took to Twitter as well to defend his colleague:
Actually, the Gang of 8, including @SenSchumer, did away with the Diversity Visa Program as part of broader reforms. I know, I was there https://t.co/QQFJzPyRzC

— Jeff Flake (@JeffFlake) November 1, 2017
Both senators were part of the Gang of Eight, a group of bi-partisan lawmakers who drew up a sweeping immigration reform proposal that included the elimination of the Diversity Visa Lottery. While the bill passed the Senate, it failed in the House. So Flake's claim that Schumer "did away" with the program is a little misleading — despite the senators' best efforts.
[image via screengrab]
—
Follow Aidan McLaughlin (@aidnmclaughlin) on Twitter
Have a tip we should know? tips@mediaite.com
Aidan McLaughlin - Editor in Chief