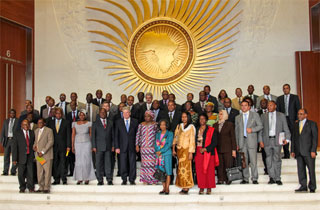 Put on your George Orwell hat: in a secret vote held by the African Union, the continent's leaders gave themselves immunity from being prosecuted by the organization for war crimes, human rights violations, and genocide.
The AP reports that the new protocol will prevent African leaders "and their allies" from being prosecuted by the Union's Court of Justice and Human Rights. According to them, it's because they feel that African leaders are being unfairly targeted for prosecution by the International Criminal Court at The Hague and the United Nations, which are currently investigating three African leaders (including two current Presidents) for crimes against humanity.
While Amnesty International called the move an outrageous "betrayal of victims," and 42 human rights organizations from Africa and the world agreed with them, it's actually possible that this could help stop human rights violations (in theory):
Simon Allison of the South African-based Institute for Security Studies wrote in an op-ed piece before the vote that "there are enough compromised African leaders who might stand to benefit from the immunity on offer."

He noted that there is an argument to be made that guaranteed immunity for presidents and senior officials might actually encourage African states to engage more enthusiastically with the proposed new court, and to abide by its rulings.

"If Africa's leaders aren't worrying about their own fate, they won't have anything to lose by cooperating," he wrote.
Again, that's a theory.
[h/t Al Jazeera]
[Image via Dereje / Shutterstock.com]
>> Follow Tina Nguyen (@Tina_Nguyen) on Twitter
Have a tip we should know? tips@mediaite.com