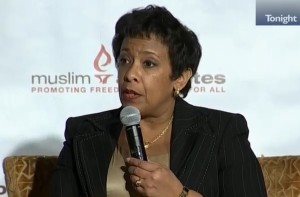 In remarks before the Muslim Advocates Dinner Thursday night, Attorney General Loretta Lynch told attendees that the Justice Department will take action against "anti-Muslim rhetoric" and "violent talk."
"Now obviously this is a country that is based on free speech," she said. "but when it edges towards violence, when we see the potential for someone lifting that mantle of anti-Muslim rhetoric or, as we saw after 9/11, violence against individuals… when we see that, we will take action."
"My view is that we can not be ruled by fear…" she said. "I will look at anything and will consider anything that will keep Americans safe."
When asked about hate crimes, Lynch said that since 9/11, the Department of Justice has launched "over a thousand investigations into acts of anti-Muslim hatred, including rhetoric and bigoted actions, with over 45 prosecutions arising out of that."
"I think it's important that as we again talk about the importance of free speech we make it clear that actions predicated on violent talk are not America. They are not who we are, they are not what we do, and they will be prosecuted," she concluded.
First Amendment scholar and Washington Post blogger Eugene Volokh points out that anti-Muslim speech– even speech that encourages violence but doesn't include a specific threat– is constitutionally protected. "If the attorney general is trying to suggest that the Justice Department will generally prosecute people for speech that 'edges towards violence,' or for 'anti-Muslim hatred, including rhetoric,' that's bad," he writes.
Watch above, via C-SPAN.
[Image via screengrab]
——
>>Follow Alex Griswold (@HashtagGriswold) on Twitter
Have a tip we should know? tips@mediaite.com