Al-Awlaki's Father Challenges Drone Strikes In NYT Op-Ed: 'Obama Admin. Must Be Held Accountable'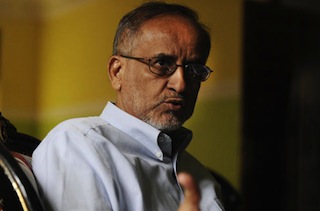 "The government has killed a 16-year-old American boy," ends Nasser al-Awlaki's op-ed in the New York Times Thursday morning. "Shouldn't it at least have to explain why?"
The op-ed, penned by the father of U.S. cleric Anwar al-Awlaki, condemns the drone strike that killed his son, who had been placed on a terrorist "kill list" but never formally charged with a crime, and the missile strike two weeks later that killed his grandson Abdulrahman; both were American citizens.
It also calls upon the Obama administration to account for the strike, which targeted citizens without court approval. "The attorney general, Eric H. Holder Jr., said only that Abdulrahman was not 'specifically targeted,' raising more questions than he answered," al-Awlaki wrote. "The Obama administration must answer for its actions and be held accountable. On Friday, I will petition a federal court in Washington to require the government to do just that."
Al-Awlaki detailed his previous efforts to petition the U.S. government for answers and accountability, only to be told that either he lacked standing to argue on his family's behalf, or that the U.S.'s counterterrorist activities were beyond the reach of the court.
"A country that believes it does not even need to answer for killing its own is not the America I once knew," wrote Al-Awlaki, who studied for over a decade in the United States on a Fulbright fellowship.
Al-Awlaki attested to the American-ness of his son. "Abdulrahman was born in Denver. He lived in America until he was seven, then came to live with me in Yemen. He was a typical teenager—he watched The Simpsons, listened to Snoop Dogg, read Harry Potter and had a Facebook page with many friends. He had a mop of curly hair, glasses like me and a wide, goofy smile."
He then contrasted this image to the one he was confronted with when he visited the site of his grandson's death. "I visited the site later, once I was able to bear the pain of seeing where he sat in his final moments," al-Awlaki wrote. "Local residents told me his body was blown to pieces. They showed me the grave where they buried his remains. I stood over it, asking why my grandchild was dead. Nearly two years later, I still have no answers."
Read the entire op-ed HERE.
[h/t New York Times]
—
>> Follow Evan McMurry (@evanmcmurry) on Twitter
Have a tip we should know? tips@mediaite.com