Almost 3,400 People in Colorado Canceled Voter Registration Following Commission Request for Info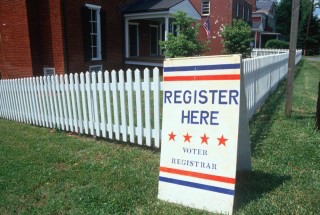 Since Donald Trump's voting commission requested voter information from every state a few weeks ago, 3,394 Colorado voters have canceled their voter registration after realizing how much of their information is exposed from it.
According to the Denver Post, voters gave two reasons for withdrawing. "They don't trust President Donald Trump's voter integrity commission, and they didn't realize how much of their voter registration information was already public under state law," the Post said.
Despite this number being a small dent in the 3.7 million registered Colorado voters, election officials are saying they have never seen anything like this in their careers.
The president cried voter fraud as an explanation for why he lost the popular vote to Hillary Clinton in last years election, despite winning the electoral college. To get to the bottom of this, the President started the Presidential Advisory Commission on Election Integrity in May. On June 30, Kris Kobach, the chairman of the voting commission, requested every state submit their voter information.
What does voter information include? Names, addresses, birth dates, party affiliation, felony convictions, military statuses, the last four digits of Social Security numbers and voting records dating back to 2006.
Many states have refused to give up their information, while others said they would only give the information that the law allows. Colorado was one of the states that agreed to give public data, but will withhold confidential information. However, Colorado Secretary of State Wayne Williams praised their decision to collect the information.
"We are very glad they are asking for information before making decisions," Williams said. "I wish more federal agencies would ask folks for their opinion and for information before they made decisions."
[image via Joseph Sohm / Shutterstock.com]
Have a tip we should know? tips@mediaite.com