Earlier today, Ohio's Secretary of State appeared on CNN and told Carol Costello in no uncertain terms that even though he supports Donald Trump, he finds the Republican nominee's claims that the election will be rigged against him "irresponsible." Because Ohio is a key battleground state, Trump and Hillary Clinton have been focusing on it pretty hard and Trump's team, in particular, has been outspoken about their suspicions when it comes to Ohio's leadership.
Amid all of that, a tweet surfaced on the account @randygdub, which has about 6000 followers.
i love working at the post office in Columbus, Ohio and ripping up absentee ballots that vote for trump

— raandy (@randygdub) October 16, 2016
Many of the tweets on that account are silly jokes about events that didn't really happen but have something to do with a timely topic. Look:
it's good that ken bone defrauded insurance companies but bad that he's racist nobody's perfect

— raandy (@randygdub) October 14, 2016
got hired as a trump surrogate and my only job is to go on CNN and say 'trump has never been horny'

— raandy (@randygdub) October 13, 2016
For whatever reason, the "got hired as a Trump surrogate…" tweet never took off but the "I love working at the post office…" one did.
Gateway Pundit picked it up and ran with the title, "POSTAL WORKER Brags Online About Destroying Trump Ballots." It starts off with "An Ohio(?) man who describes himself as a postal worker bragged online this weekend about destroying Donald Trump absentee ballots," then goes on to reiterate, "He actually bragged about it!"
Jim Hoft then included a screenshot of the following exchange: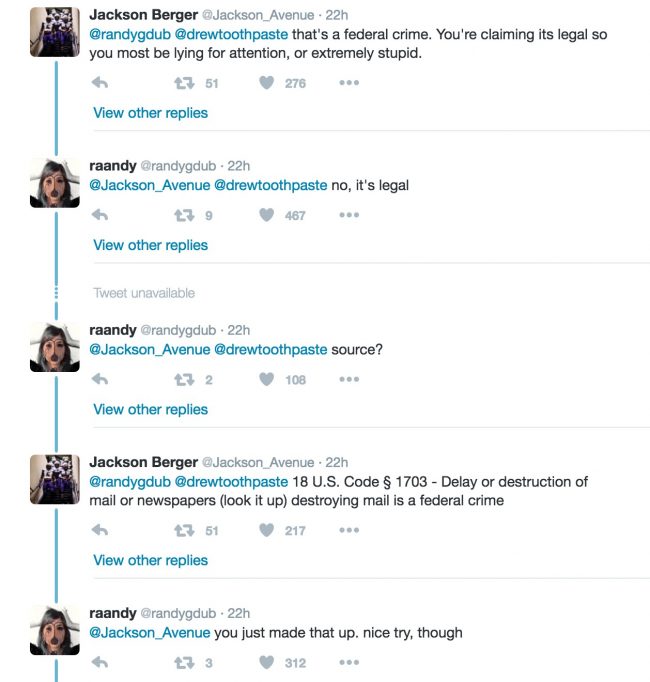 To many, the "source?" would give this away as a long-winded joke. Further, a little investigation would have revealed that Trump supporters getting worked up about possible voter fraud is a theme among the account's tweets.
second video I've seen in two days of trump people recording what they think is voter fraud but isn't this is their lives now

— raandy (@randygdub) October 12, 2016
Eventually, the account tweeted out Hoft's story…
lmao jim hoft did a story on me https://t.co/iI40BaO3eC

— raandy (@randygdub) October 17, 2016
… and the article got updated with this:
UPDATE: So the left says this story is a joke.
Because stealing elections is funny.
Hoft wasn't the only one to get upset, though. Here is former actor, massive Trump fan, and featured RNC speaker Scott Baio, whose Twitter is always getting him into trouble:
I hope you get fired! Cheating is the only way she'll win. @realDonaldTrump Hey @JohnKasich is this okay with you? https://t.co/9mgk11KZHk

— Scott Baio (@ScottBaio) October 17, 2016
His wife was mad, too:
Isn't that illegal? @realDonaldTrump @LynnePatton @FoxNews @FBI @CNN @seanhannity @WayneDupreeShow https://t.co/9AaTJBfvA0

— Renee Baio (@MrsScottBaio) October 17, 2016
Baio also tweeted out a link to another right-wing site that covered the "postal worker" story:
Cheating and corruption is their way. @realDonaldTrump https://t.co/XPYopdZVko

— Scott Baio (@ScottBaio) October 17, 2016
Gateway Pundit and Ending the Fed on their own are fine, but a story hasn't really made it on the far right until it gets a Drudge link.
Postal Worker Brags About Destroying Trump Ballots… https://t.co/WlWz0aG9aY

— DRUDGE REPORT (@DRUDGE_REPORT) October 17, 2016
And there it is.
[image via screengrab]
Have a tip we should know? tips@mediaite.com