Amanda Knox Pens Piece Questioning Why Women Confess to Crimes They Don't Commit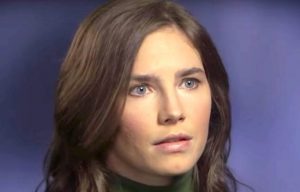 As always, it's an interesting time to be Amanda Knox. The American woman has been battling with the Italian legal system for almost a decade since her roommate, Meredith Kercher, was found dead in the home they shared while studying abroad. A recent Netflix documentary shone a light on her situation, but the world still remains divided over whether or not she killed Kercher. She did admit to it once, right?
False confessions are the stuff of mystery movies, but they're also a reality for many people accused of crimes. Knox wanted to explore why so many of the people who make false confessions, as she did, are women, so she worked on a piece for Vice's women's site, Broadly.
It begins with the tagline, "Very little is known about how different genders experience criminal investigations differently—but is it time for this to change?"  and moves quickly from abstract questions to straight statistics. For instance, Knox points out that according to the National Registry of Exonerations, women represent 11 percent of exonerees involving a false confession compared to nine percent of exonerations overall.
She suggests that the compliance and suggestibility that women are conditioned to adopt as little girls plays a role in why more of them are likely to confess to a crime they didn't commit in order to appease a questioner. She puts it like this:
Women are raised under a different social incentive structure than men, where attitudes of compliance and deference to authority are more encouraged. This finds its most damning realization in the interrogation room, a situation designed to amplify the absolute control and authority of investigators—an experience I know only too well.
She moves on then to examine the types of crimes that women are more likely to falsely confess to and, of course, finds that women are more vulnerable in general when the crime involves the death of a child.
Read the entire thing here.
[image: screengrab]
Have a tip we should know? tips@mediaite.com