American Flag Depicting Image Of Obama Taken Down After Complaint From Veterans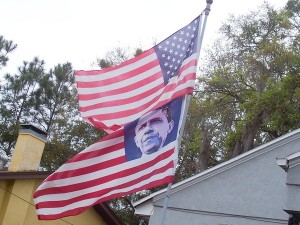 An altered American flag is causing quite a stir following complaints from a group of veterans. In Florida, The Lake County Democratic Headquarters office has been flying two flags: one traditional American flag and another that has President Obama's face in place of the 50 stars.
The flag, available online for $12.95, has been taken down after several veterans said it was "desecration." From The Orlando Sentinel:
"It's a cult of personality to show his face, like Stalin or Mao," said John Masterjohn, a former Marine and retired schoolteacher from Leesburg. "It's despicable. They don't realize how sick they are."
James Bradford, the veteran who first noticed it, phoned into Fox News Wednesday afternoon and said party affiliation has nothing to do with it: "If it had been Romney on the flag, I'd have done exactly the same thing." Fox played a clip of Bradford and other veterans showing up at the office, where "things got a little tense." He suggested doing the office a favor and taking it down himself, but was reminded that it's private property.
The party chairwoman Nancy Hurlbert said the flag was flying for several months, and that it was a gift. A statement from the Lake County Democratic Headquarters said, "We were given this as a gift. We are proud of our president, we're proud of the United States, and we felt it was time to display that."
Hurlbert this was the first time they received a complaint. ""I was surprised," she said. "No one had called us. We have a phone."
Take a look at the Fox News segment:

Have a tip we should know? tips@mediaite.com