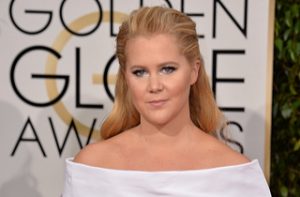 Amy Schumer is, by every standard, killing it. Trainwreck was one of the best comedy movies of 2015. She's about to play the title character in Barbie– yes, that Barbie. She's sold out Madison Square Garden and countless other arenas. Madonna opened for her. She has 10 Primetime Emmy nominations, including one win. She's also been nominated for two Grammy awards this year, for the reading of her audiobook The Girl With the Lower Back Tattoo, and her comedy album Live at the Apollo.
As we said, killing it. Unfortunately, she still has to deal with her fair share of body shamers and trolls, who she addressed today in an Instagram post.
"Very very honored to be nominated for 2 Grammys and to be considered to play an important and evolving icon. Is it fat shaming if you know you're not fat and have zero shame in your game?" she asked.
She continued, saying "Where's the shame? It's not there. It's an illusion. When I look in the mirror I know who I am. Im a great friend, sister, daughter and girlfriend. I'm a badass comic headlining arenas all over the world and making tv and movies and writing books where I lay it all out there and I'm fearless like you can be."
She goes on to say that she feels "sympathy" for her trolls, because they are "in more pain than we will ever understand." She also said to those who have been bullied, "I am out there fighting for you, for us."
[image via Featureflash Photo Agency / Shutterstock.com]
Have a tip we should know? tips@mediaite.com