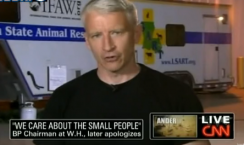 Someone needs to get Anderson Cooper a sense of humor. Hours after BP Board Chairman Carl-Henric Svanberg, who speaks English as a second language, addressed the press following his meeting with President Obama and made his now infamous "small people" remark, Anderson decided to treat the moment with a dramatic flair worthy of a diplomatic international crisis.
Now it's entirely possible he used the wrong word, maybe he meant to say little people, though that would have been just as insulting…a lot of people around here were understandably insulted, I gave him the benefit of the doubt, he's from Sweden, he's not a native English speaker. And in fact hours later he issued an apology [actually about one hour later later]…[however] it's almost common for BP to put out statements apologizing for or restating their own statements. If by chance the BP chairmen doesn't know this, which I'm sure he does, we think it's worth mentioning: there aren't any little people down here.
We know Anderson! Cooper then offered to introduce Svanberg — who has turned down requests thus far — to the actual 'heroic' people who are not "small or little people" who live in the Gulf. For Svanberg's benefit Cooper offer really nice profiles a number of them, all of who deserve the attention and support. But geez, apart from the nation not needing to be reminded that people living on the Gulf are bearing the heavy load, heroically…..sometimes the lighter touch is more effective than the furrowed brow. Watch below.
Have a tip we should know? tips@mediaite.com