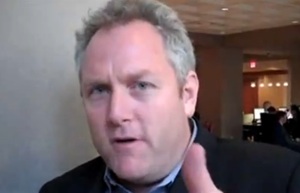 By now, if you've been paying attention to our Conservative Political Action Conference coverage, you've likely already watched the video of my impromptu interview with Andrew Breitbart (if not, it's coming after the jump). It's the best of many "spirited" Breitbart videos to come out of this year's CPAC. A display like this might damage the reputation of other public figures, but the Big Journalism creator and his fans have nothing to worry about. Just ask my editor. First, if you missed it, here's the exchange with Breitbart, in the lobby of the Marriott Wardman Hotel. Trust me, you should watch it until the end.
First, a little backstory. I was outside the hotel copping a smoke when I heard some CPAC attendees buzzing about a run-in between Andrew and liberal videographer/columnist Max Blumenthal, that had just occurred (this is an annual rite at CPAC). I learned later, from Max, that he was on his way out of the hotel when he was accosted by James O'Keefe's ACORN-busting partner, Hannah Giles.
According to Max, she began asking him "bizarre questions," and a crowd quickly formed. He engaged the crowd for about an hour, and while they started out hostile, by the end, it was much more civil. As the gathering broke up, Breitbart saw Max, and (according to Max) started an argument, part of which can be seen here. (Max's own video may be available soon.) The crux of the argument was Max's accusation that Breitbart's…independent contractor… is a racist. I find it instructive, though, that in both this argument and in his interview with me, he says that the worst thing you can do in America is to accuse someone of racism. Andrew, if you're reading this, here's a follow-up: How many notches below that is actually being a racist?
Max also claimed that the DC police who were handling security for the conference advised him to leave for his own safety.
Upon hearing this, I rushed into the hotel to ask Andrew about it. Aside from his dissertation on mucus and weird personal cracks, there are several things worth noting.
First of all, I did not accuse anyone of racism, no matter how much Breitbart wishes I did. I simply asked a question. Breitbart and his crew might want to paint this as an indictment itself, like "when did you stop beating your wife," but this is just not the case. There's ample reason to ask it, and it's a gift-wrapped opportunity for them to put this issue to rest.
In fact, this points up a neat contrast between O'Keefe and myself. I had a reason to ask the question. It's an issue that's been raised elsewhere, based on O'Keefe's own behavior. In fact, after my interview with Breitbart, several CPAC attendees thanked me for "calling it out."
O'Keefe, on the other hand, decided to set up a sting operation to see if ACORN would give tax help to a pimp and a prostitute. Why? Did O'Keefe have any reason to believe that this was an issue for ACORN? He's never said so. So what is it about ACORN that made him want to engage in the pimp attack? Where was the probable cause?
If only James or Breitbart would answer that. For it appears that Breitbart's influence over O'Keefe extends to only let him talk to friendly journalists, but, as our encounter shows, his influence isn't large enough to include taking responsibility for O'Keefe's actual product. Apparently, O'Keefe has no editor. This is a great deal for Breitbart, as he gets to exploit O'Keefe's work, but assumes less responsibility in protecting him.
This brings me to my original point. When I learned that my editor, Colby Hall, was posting my video with a disclaimer, my initial reaction was anger. Upon reflection, though, I can see that this was the right thing for him to do. Whether you like him or not, and whether you consider what he does journalism or not, Andrew Breitbart is already a towering figure on the media landscape – and his influence is still growing. I am generously allowed the freedom to interview people like Breitbart, and comment on them, however I see fit.
Whatever it is that Breitbart's selling, lots of people are buying, and his array of performances from this weekend are top-of-the-line Breitbart. Love him or hate him, the guy puts on a hell of a show. The trick, for liberals, is to put on a better show.
Editor's note – on Saturday we published the original video interview with the disclaimer that the opinions reflected by Tommy did not reflect those of Mediaite.
Have a tip we should know? tips@mediaite.com