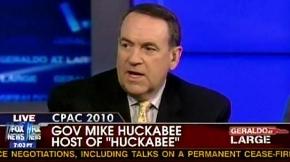 2008 presidential candidate and current Fox News host Mike Huckabee did not fare well in the CPAC straw poll, finishing in 6th place – far behind Ron Paul, Mitt Romney, Sarah Palin and others.
Geraldo Rivera got his reaction on Fox news this weekend – and Huckabee turned the tables on the conference as a whole.
"CPAC has becoming increasingly more Libertarian and less Republican over the last years – one of the reasons I didn't go this year," he said when asked for a straw poll response.
Huckabee cited the tea parties as the reason CPAC had less clout: "The tea party has certainly taken all the oxygen out of the room, so where CPAC was historically the event, the tea parties are having their own events all over the country and a lot more truly grassroots people are getting involved."
Politico's Jonathan Martin writes about the Huckabee/CPAC relationship:
Dating to his failed 2008 run, Huckabee has had tense relations with the Washington-based conservative leaders who run the conference. The conservative establishment types questioned his fiscal bona fides and the former governor was annoyed so few of them took his campaign seriously – even after he won the Iowa caucuses.
This will become a major theme of the 2012 election, as the more CPAC-like candidates (like Romney) face off against more tea party-like ones (like Palin and Huckabee). Still, Glenn Beck gave this year's rousing keynote address at CPAC, so the embrace of CPAC may be wider than Huckabee would like to admit.
Here's the former Arkansas Governor on Geraldo At Large:


—–
» Follow Steve Krakauer on Twitter
Have a tip we should know? tips@mediaite.com