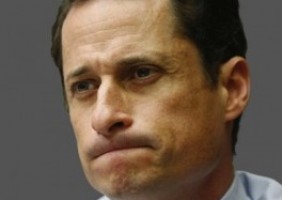 In a post on his website Big Government, published in the wee hours of Monday morning, Andrew Breitbart is claiming that a new woman has come forward with claims of owning a "cache of intimate photos and online communications" with Rep. Anthony Weiner. In the brief and provocative post, Breitbart alleges that this appears to "undermine severely" Weiner's explanation that he was the victim of a prank, though it is not yet clear whether or not Breitbart is in possession, or has seen, this alleged evidence.
Breitbart opens his post:
A new woman has come forward with what she claims are photographs, chats, and emails with Rep. Anthony Weiner (D-NY). These appear to undermine severely Rep. Weiner's explanations that he was the victim of a "prank" or a "hack."

The detailed new information suggests that the Brooklyn- and Queens-based representative and the young woman in question were involved in an online, consensual relationship involving the mutual exchange of intimate photographs.
The post ends with Breitbart alerting readers that his sites Big Government and Big Journalism will be "releasing photographs, timelines, and other clarifying details," adding that some information will not be released because "some of it is of an extreme, graphic nature."
It's not clear whether Breitbart has deemed the photos extreme and graphic because he has personally seen them, or if they have been described as such. We have reached out to Breitbart for clarification on this, and will update the story as soon as we hear confirmation. Update – though we've not heard back from Breitbart, he has started releasing what appear to be private images sent from Weiner to an individual in question. This appears to confirm that Breitbart himself is in possession of said "cache" of information.
To Breitbart's assertion that this alleged evidence "undermine(s) severely" Weiner's position that the previous tweeted picture (that caused so much controversy last week) was a result of a hack or prank, we're not sure how that is. It is entirely plausible that the "intimate" communications of which Breitbart is now claiming to be aware were privately shared by to consenting adults, one of whom no longer feels the need to protect the other's private identity. Put another way, Weiner could easily have participated in online sharing of private images and messages and still have been the victim of some sort of online fabrication that launched the so-called "Weinergate" scandal.
Of course, the undercurrent of Breitbart's latest post seems to suggest that Weiner is the sort of guy who may share intimate photos of himself via the Internet, and given how few facts still are known about this story, that seems just as plausible as about any other speculation at this point.
Have a tip we should know? tips@mediaite.com