Andrew Sullivan: 'If You Voted For Obama In 2008 And Don't In 2012, You Never Really Voted For Him'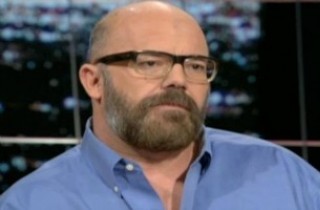 Less than a week before Election Day, Daily Beast writer Andrew Sullivan laid out a strong-worded case for why he believes President Obama deserves a second term, and why the president's first term should not be considered a "failure." At one point, Sullivan reprimanded those who voted for Obama's first term but are hesitant to do so again.
"I have no idea what standard people are using to declare Obama's first term a failure," he wrote. "To save us from a Great Depression, rescue the auto industry, re-regulate Wall Street, decimate al Qaeda, kill bin Laden and Qaddafi and provide universal healthcare? That's failure?
Sullivan explains that "Unemployment is lower now than it was when he took office, and moving downward," referring to the Labor Department's September report that showed a 7.8% jobless rate. Many conservatives, however, attacked those numbers as "dubious" and possibly "manipulated" by the administration for political gain.
"I understand why the Tea Party disagrees with his policies. What I cannot understand is how those who voted for him in 2008 because they wanted real change can explain why they may vote against him now. It makes no sense," he wrote. "He has carried through almost every election promise, and those he hasn't can mostly be attributed to the GOP House."
He added: "If you voted for Obama in 2008 and don't in 2012, you never really voted for him in 2008. He told us it would take two terms."
If Romney were to win the election and Obama is stripped of a second term, Sullivan predicted: "Back to ballooning, rather than shrinking deficits, millions left without access to private health insurance, a guaranteed war against Iran, climate change policy handed over to the oil and coal companies, and massive spending on defense we don't need. Not to mention torture."
Sullivan's full post here.
[h/t NewsBusters]
— —
>> Follow Andrew Kirell (@AndrewKirell) on Twitter
Have a tip we should know? tips@mediaite.com