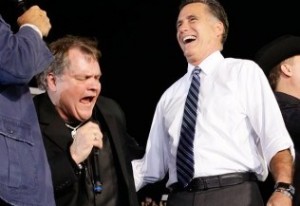 We've been hearing much about how select groups — like women, Latinos, black voters, seniors, and porn stars — are planning to vote this election, but there's still one particular group that is routinely overlooked by the poopstream media: Paparazzi. Specifically, DC paparazzi. While Romney has touted his role as a businessman and job creator, DC paps are afraid he'll prove to be a job killer for their industry.
"If he were to win, you might have, say, Kelsey Grammar or Jon Voight, but that's not money you can make off the photographers," said Young. "You're not going to have the Eva Longoria, Jennifer Lopez, Will Smith, the big name A-Listers who come and support Barack Obama. … You'll have to travel or maybe you'll have to find something totally different to shoot."

Photographer and autographer collector Mark Wilkins said a Romney administration would "bring back the same old boring celebrities we saw back when Bush was around."

"Trace Adkins, all those country stars that no one really cares about," said Wilkins. "I hope Romney doesn't get elected because it will slow things down. Right now there are celebs visiting the White House, four, five times a week that we don't even know about until after they leave. Romney? Who wants to visit Romney?"
Elitists. Just imagine: White House banquet. Meat Loaf glances up from his chilled pea shoot bisque to interrupt Lindsay Lohan. "No," he says. "Stacey Dash's dress is more fuschia than magenta."
"Told ya," says Jenna Jameson, sipping smugly from her glass of White House Special Brew Lactaid.
h/t Politico

Have a tip we should know? tips@mediaite.com