Andy Levy Hits Chris Brown, Backs Obama's Sequester Strategy And Praises Conan O'Brien On Fox Radio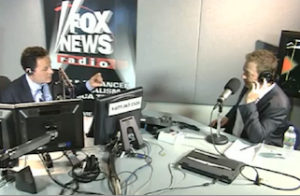 Red Eye with Greg Gutfeld's Andy Levy sat down for a wide-ranging interview with Brian Kilmeade on Fox News Radio Thursday to discuss everything from his ongoing feud with Chris Brown to who he thinks is to blame for Washington's sequestration mess.
Levy spoke for the first time in a long time about his unlikely war with rapper Chris Brown that dates back to a 2011 domestic abuse-themed tweet that pre-dates Brown's more recent feud with comedian Jenny Johnson. He seemed legitimately amazed that his "apology" video has remained as popular as it has. Levy said he still "tweets crap" at Brown but decided to reserve judgement on Rihanna for going back to him.
Moving on the upcoming sequester, Levy gave President Obama and his team credit for "doing a really great messaging job," which has led to opinion polls blaming Congress more than the president for the impending cuts and furloughs. He added that Congress did vote on the sequester, so they "can't sit there and say 'well this was your idea' as if they have nothing to do with it."
Finally, the conversation turned to the news that Conan O'Brien will host this year's White House Correspondents Dinner. Levy said he "likes" O'Brien and thinks he's a good choice, but he also thinks it's about time the annual dinner was abolished. Levy predicted that the dinner's day are numbered now that the event only perpetuates the perception of "chumminess" between the president and the press.
Watch video below, via Fox News Radio
—
>> Follow Matt Wilstein (@TheMattWilstein) on Twitter
Have a tip we should know? tips@mediaite.com