Ann Coulter Scolds NRA's LaPierre: When Asked If You Want Fewer Children Killed, Answer Is 'Yes'
Coulter Scolds NRA's LaPierre: When Asked If You Want Fewer Kids Killed, Answer 'Yes'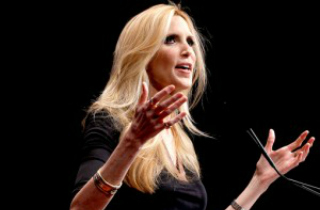 Conservative columnist Ann Coulter appeared on MofoPolitics on Friday where she scolded National Rifle Association's Wayne LaPierre for his organization's response to the tragic slaying of 26 in Newtown, Connecticut, on December 14. Coulter said that LaPierre's hedging and defensive appearance on Meet the Press following the attack did nothing to advance his organization's goals. His answer to questions about not wanting more mass shootings should always be "yes," and to then highlight the fact that only an armed populace has been able to prevent shootings like what happened in Connecticut.

RELATED: Riled Up David Gregory Hammers Wayne LaPierre Over NRA Position On Gun Laws
"The NRA needs a better spokesman," Coulter said. "I was watching Wayne LaPierre on Meet The Press this weekend and — is he the only gun rights supporter who has not read John Lott's book?"
Coulter said that when NBC News anchor David Gregory was hammering LaPierre on his organization's objective when asked if he supports fewer children being killed, his answer was not confidence-inspiring.
"There was hemming and hawing," Coulter said. "The answer is — get this right-wingers, get this gun supporters — yes, yes, yes."
Coulter said that the only mechanism for preventing mass shootings is to have an armed populace, which is a topic of discussion that should be in LaPierre's comfort zone.
She said that, with mentally disturbed people pushing strangers onto train tracks in New York City twice in one month, there is room to attack the political left for their tolerance of with mental disorders. "Can we lock some of these people up," Coulter asked.
Listen to the clip below:
h/t MP
> >Follow Noah Rothman (@Noah_C_Rothman) on Twitter
Have a tip we should know? tips@mediaite.com