Boston Globe Movie Critic Likens Django Unchained's Villainous 'House Negro' To Black Republicans
Film Critic Likens
Django'
s Villainous 'House Negro' To Black Republicans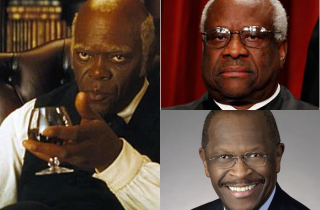 In his official review of Quentin Tarantino's box office smash Django Unchained, Boston Globe film critic Wesley Morris likens the movie's villainous "house Negro" to black Republicans like Justice Clarence Thomas or former RNC Chairman Michael Steele.
The positive review largely took note of the film's successful twisting of the Spaghetti Western genre to fit a Civil War rebellion story, with special praise for Tarantino's script and the actors who filled the screen.
But upon praising Samuel L. Jackson for his portrayal of Stephen, the head servant at the villainous Candie family mansion, Morris invoked the names of modern black Republicans whom he believes Jackson channeled in his "black self-loathing" performance:
Samuel L. Jackson plays crusty, waxen Stephen as a vision of depraved loyalty and bombastic jive that cuts right past the obvious association with Uncle Tom. The movie is too modern for what Jackson is doing to be limited to 1853. He's conjuring the house Negro, yes, but playing him as though he were Clarence Thomas or Alan Keyes or Herman Cain or Michael Steele, men whom some black people find embarrassing.
Morris continued on to praise Jackson's performance as an unprecedented "black monster," never seen before, not even in D.W. Griffith's famous 1915 movie about the Klu Klux Klan, The Birth of a Nation. "Jackson turns the volume way up on his entire persona to broadcast the nightmare of black self-loathing. It's a terrifying, fearless, and easily misconstrued performance," the critic concluded about Jackson's acting.
[h/t NewsBusters]
— —
>> Follow Andrew Kirell (@AndrewKirell) on Twitter
Have a tip we should know? tips@mediaite.com