Annoyed with Shutdown, Liberal Outlets Pine for Monarch, Armed Crackdown on GOP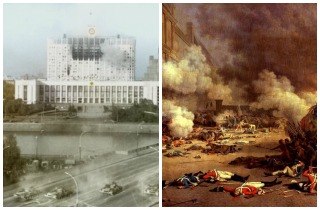 Popular Democracy is a messy thing. So messy, in fact, that it is a form of self-government which fell out of favor for most of the 20th Century. We all know how that worked out.
Still, a variety of liberal media outlets have taken the opportunity of an hours-old, limited government shutdown to gnash teeth and rend garments over the chaotic and frustrating aspects of republican democracy.

The more honest of those outlets have taken to wistfully pining for a regime where unresponsive executives can simply resolve crises by fiat… or, more straightforwardly stated, by force.
"Australia had a government shutdown once," Observed an aggravated Max Fisher in The Washington Post. "In the end, the queen fired everyone in Parliament."
While Fisher conceded that the shackles imposed on the American system by the Constitution prohibit this style of governance by decree, he does conceded that he's certain many are wishing the republic had an unconstrained regent who could.
"You might find yourself wishing that the United States could follow Australia's example," Fisher projects. "But we can't, because we haven't recognized the British monarchy or had a London-appointed governor -general in more than two centuries. Maybe, if we ask nicely, Britain will take us back?"
The liberal opinion journal The New Republic was slightly more straightforward in its desire to see force resolve the current standoff in Washington.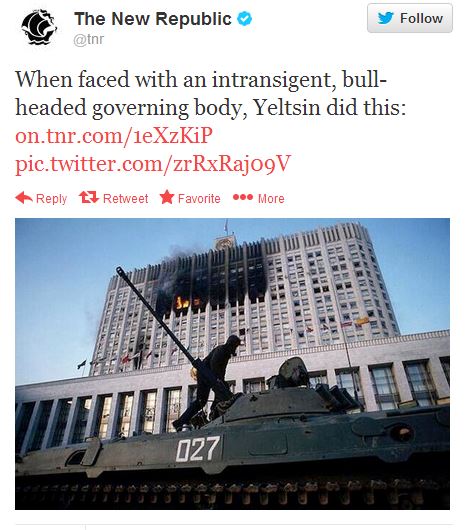 The event depicted in this tweet is the 1993 storming of the Russian parliament. In what was called the Second October Revolution, a constitutional crisis in Russia prompted a revolt among members of the Duma when the government attempted to privatize some state industry. They Duma members were soon joined by former Red Army officers who had no love for Russian President Boris Yeltsin.
Yeltsin ordered tanks to fire on the parliament building and to have soldiers loyal to the Russian Republic storm the building and eliminate all opposition. Hundreds died.
Expert on Russia and columnist with TNR, Julia Ioffe, said the comparison is entirely appropriate. The Bolsheviks, she said, utilized tactics that were designed to weaken and ultimately topple the government from within. Just like the tea party.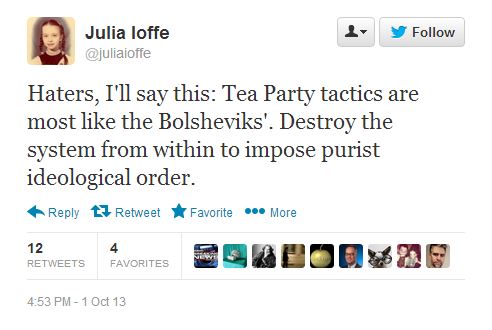 It is, however, important to remember that it's the Republicans who are the extremists.
[Photo via Wikipeida ]
— —
> >Follow Noah Rothman (@NoahCRothman) on Twitter
Have a tip we should know? tips@mediaite.com