Another Desperate Attempt to Get You to Shut Up About Obamacare
Rothman: Another Desperate Attempt to Get You to Shut Up About Obamacare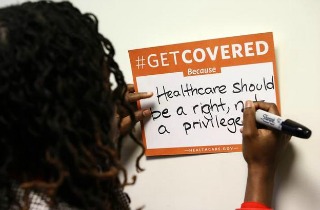 In the autumn of 2013, the Affordable Care Act's supporters in the press and the political class were forced to admit that the online portal was faulty and getting worse. Nevertheless, they insisted, the ACA's debut would smooth out once those issues were resolved.
NBC News Senior Political Editor Mark Murray assured MSNBC's nervous audience that all was well as early as mid-October, 2013, when he insisted that the problem-plagued ACA website was but a "blip on the radar screen." He added that this "historical footnote" would be forgotten by the public, and elected officials from both parties would soon move on from politicking on the ACA.
Two weeks later, the president apologized to the American people on behalf of his administration's incompetent implementation of the ACA.
Of course, the website did begin to perform up to private sector standards well after the self-imposed November 30 deadline — at least, the front end was reconfigured so that the online portal's persistent technical problems were obscured from public view. But the ACA's early unmet expectations were not enough to keep pundits and the politicians from repeating the affirmation that the health care reform law will one day become popular and well-implemented.
This assertion has always been tactical. Its aim was and remains to create the impression that the flawed and unpopular law is an intractable feature of modern life. This strategy is designed to silence the law's critics and stiffen the spines of vulnerable Democrats whose fates are tied to the law's, and the president's, success.
To that end, buttressed by dubious ACA enrollment figures, the president once again told the ACA's critics to shut up. "The debate over repealing this law is over," President Barack Obama declared to a standing ovation of supporters on Tuesday. Obama insisted that almost 7.1 million Americans had enrolled in some form of benefits associated with the new law, meeting an estimated enrollment figure they insisted they did not set and was irrelevant when it was unclear whether they could hit that mark.
To extend a metaphor employed by the ACA's critics, if Obama's announcement Tuesday represented his "mission accomplished" moment, the ACA's supporters continue to assert, without evidence, that the health care reform law will eventually be greeted as a liberator.
RELATED: Here's How Critics Will Try to Undermine Obamacare's 7 Million Enrollment Number
But just as the shortsighted supporters of the occupation of Iraq encountered, the law's problems are features, not bugs, and they will persist.
While the White House insists that nearly 7.1 million are newly enrolled in the ACA, they also claim they have no reliable figures for just how many of those enrollees were previously uninsured, how many lost their previous coverage as a result of the law, and how many have or will pay their first month's premium (e.g. "shopping cart" enrollees). This is a claim so insulting that only the president's most credulous backers and their paid staffers could buy it.
Fortunately, those disinclined to take the federal government at its word are doing some legwork. Blue Cross Blue Shield association estimates that only between 5.7 and 6 million ACA enrollees had selected and paid for a plan and are actually insured. The RAND Corporation conducted a secretive survey which revealed this week that as few as 858,0000 previously insured Americans have paid for their new policies. Their study shows that just one-third of the enrolled were previously uninsured. Furthermore, only 53 percent of the total enrollees have paid their first month's premium. Most of those who remain "shopping cart" enrollees are hesitating to pull the trigger for a reason.
An earlier McKinsey study revealed that only 27 percent of enrollees were previously uninsured and, of those 27 percent, nearly half had yet to pay their first month's premium. Most of those likely never will. The biggest factor those respondents said may lead them to not enroll in a plan were the high costs of enrollment.
A law which was designed to provide affordable health insurance to the uninsured has failed in that singular mission because it is not, in fact, affordable.
Why does this matter? Because any dysfunction in the Rube Goldberg device that is the ACA will ultimately disrupt the functionality of the entire mechanism. On April 15, high-risk insurance plans, first established in 2010, will (might) expire after being extended three times in the past. By June, insurance companies will have to set their premium increases for 2015. While some states may see only modest increases, many will see more substantial premium hikes which could increase the problems associated with a narrow risk pool. That will lead insurance consumers, mostly those who are healthier, to either switch plans or flee the marketplace entirely.
No matter how you look at it, the ACA will continue to be a political issue because it remains a policy issue. The debate over the ACA will persist because complying with it, taking advantage of it, or avoiding it entirely remains a pressing issue for millions of Americans. No matter how loudly the law's besieged supporters demand that it end, the debate will continue into November and well afterwards.
[Photo via Kevin Lamarque / Reuters]
 — — 
> >Follow Noah Rothman (@NoahCRothman) on Twitter
Have a tip we should know? tips@mediaite.com