Anthony Cumia Shares Thoughts on an Opie and Anthony Show That Doesn't Include Him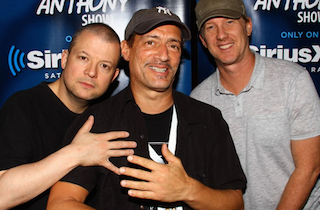 Over the July 4th weekend, SiriusXM fired radio host Anthony Cumia from the popular show that bears his name, The Opie and Anthony Show, after outrage grew around a series of racially-charged tweets he posted aimed at a black woman who had allegedly punched him in Times Square.
Today, Cumia shared his reaction to the situation for the first time in a phone interview with The Wire. These initial comments from Cumia come after Gregg "Opie" Hughes revealed he would be continuing the show without his longtime partner due to contractual obligations with SiriusXM.
"I understand the position they've been put in, I love those guys," Cumia said of Opie and the show's other regular co-host Jim Norton, who will be staying on as well. "I completely get it."
As for his own future, Cumia said he would continue to produce his solo "Live From the Compound Show," which he previously aired out of his own home. "I'm getting the Live From the Compound Show up and running, handling some logistics stuff and getting the stuff together," he said. "In the meantime, I'll be putting out a couple promos. I'm definitely ready. Hoping to air the first week of August."
Cumia also had some words of gratitude with his fans, who have largely stuck by him through the ordeal. "I love all the support. It really is refreshing to see in this business," he said. "I think they're making an impact. They're making their voices heard, that is absolutely great. They're displeased with what happened and letting the powers that be know that with their dollars."
The big winner in all of this appears to be Norton, who will effectively take Cumia's place on the SiriusXM show. As The Wire's Polly Mosendz speculates, it could very well be renamed "The Opie and Jim Show" in the near future.
[Photo via SiriusXM]
— —
>> Follow Matt Wilstein (@TheMattWilstein) on Twitter
Have a tip we should know? [email protected]