Anti-Abortion Group Issued Court Order Barring Release of Planned Parenthood Videos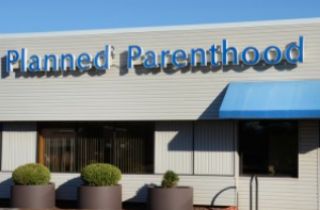 After releasing three videos that have caused great controversy for Planned Parenthood, the Center for Medical Progress has been slapped with a restraining order that temporarily prevents them from releasing any more. The Los Angeles Superior Court handed down the order on Tuesday, saying that no video can be shown depicting the three officials shown discussing prices in the second video.
StemExpress, the tissue research distributer to whom Parenthood sold their material, filed the motion in response to officials being shown in discussion at a restaurant. A spokesperson responded to the order and said they are "grateful its rights have been vindicated in a court of law."
CMP leader David Daleiden said that StemExpress was using "meritless litigation" to cover up an "illegal baby parts trade." Daleidan's statement also reads that they have followed the law with their covert recordings, and that Parenthood personnel are still fair game, even if StemExpress officials are not:
They are not succeeding—their initial petition was rejected by the court, and their second petition was eviscerated to a narrow and contingent order about an alleged recording pending CMP's opportunity to respond. The Center for Medical Progress follows all applicable laws in the course of our investigative journalism work and will contest all attempts from Planned Parenthood and their allies to silence our First Amendment rights and suppress investigative journalism.
Parenthood has defended itself numerous times since the story broke: decrying the video as heavily-edited, blaming CMP for a campaign of harassment, and pressuring the media to not publish any future videos.
[image via shutterstock]
Have a tip we should know? tips@mediaite.com