Anti-Obama Billboard Has it All: Islamophobia, Homophobia, Racism…Antichristism?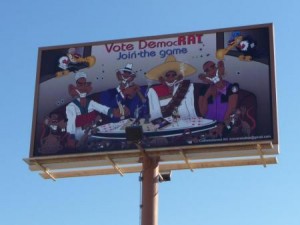 A new billboard targeting President Obama ups the ante on previous efforts, placing the Commander in Chief in a poker-themed ad that plays every card in the deck against him, including the Antichrist card. Gay Obama, Bandito Obama, Pimp Obama, and Suicide Bomber Obama compete in a weird game of 3-card stud in which they each display trip sixes.
If you can believe it, the everything-but-the-kitchen-sink billboard appears to have been toned down from artist and Tea Partier Paul Snover's original vision, which featured Swastika, Muslim crescent, and Soviet emblems.
The Grand Junction Sentinel reports:
A Grand Junction billboard depicting President Barack Obama as a terrorist, a gangster, a Mexican bandit and a gay man is getting national attention.

The billboard, erected along the I-70 Business Loop between 28 1/2 and 29 roads sometime Monday, depicts the four "Obamas" sitting around a table with playing cards showing only sixes bunched in groups of three.

Also on the table is a copy of the Declaration of Independence, a liberty bell, a toy soldier and a statue of Justice holding a balance.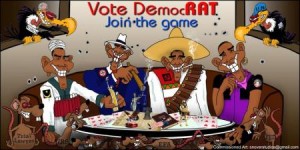 National Review Online notes:
The billboard itself lacks the shoulder badges emblazoned with the Muslim crescent and star, the swastika, and the hammer-and-sickle that appear to either have been part of the original picture, or were added later.
The artist, Paul Snover, won't reveal who  commissioned and paid for the billboard, telling the GJ Sentinel in an email, ""I am not allowed to say who (paid for it) at this time… If it had been me, I would have included the Republicans as part of the problem."
The billboard's appearance comes nearly a year after a similarly offensive, if less flamboyant, billboard appeared in Wheat Ridge, Colorado. The man behind that billboard, car dealer Phil Wolf, couldn't be reached for comment, but a source at the dealership told us he didn't think Wolf had anything to do with the more recent one.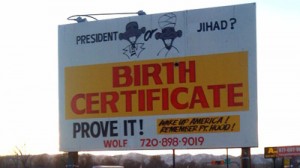 Bradley Fulkerson, who runs BillboardsForAmerica.com (formerly BillboardsAgainstObama.com), also denied responsibility for the poker billboard, telling Mediaite (via email), "No, this is not one of our billboards. Only billboards shown on our website are our billboards."
Local officials in both parties were quick to denounce the billboard:
Mesa County Democratic Party Chairwoman Martelle Daniels called the billboard racist and homophobic, while her GOP counterpart, Mesa County Republican Party Chairman Chuck Pabst, called it "juvenile."

"It's beyond disrespectful," Daniels said. "You would like to think that we all would show respect for our commander-in-chief, but this is just beyond that. It's racist, it's homophobic, and it's really cowardly."

Like Daniels, Pabst said he doesn't like it because it doesn't help further intelligent dialogue about the president or his policies.

"That kind of political positioning and statements, I think, are in bad taste," Pabst said. "It's reprehensible and disrespectful, and that's not what any honorable person would put forth. To ridicule somebody in this manner is juvenile."
While the forces behind this billboard remain a mystery for now, if history is any indication, it's likely to be one or more pissed-off millionaires with money to burn on billboards.
Have a tip we should know? tips@mediaite.com